Wherever we roam, Justin and I are more likely to seek out off-the-beaten track activities to more touristic options. But, when a guided excursion ventures into vast, sun-touched sand dunes, familiar routes become quite reasonable. Which is why deciding on visiting the Sahara Desert in Morocco was easy – the only question in our minds was, would the trip be worthwhile?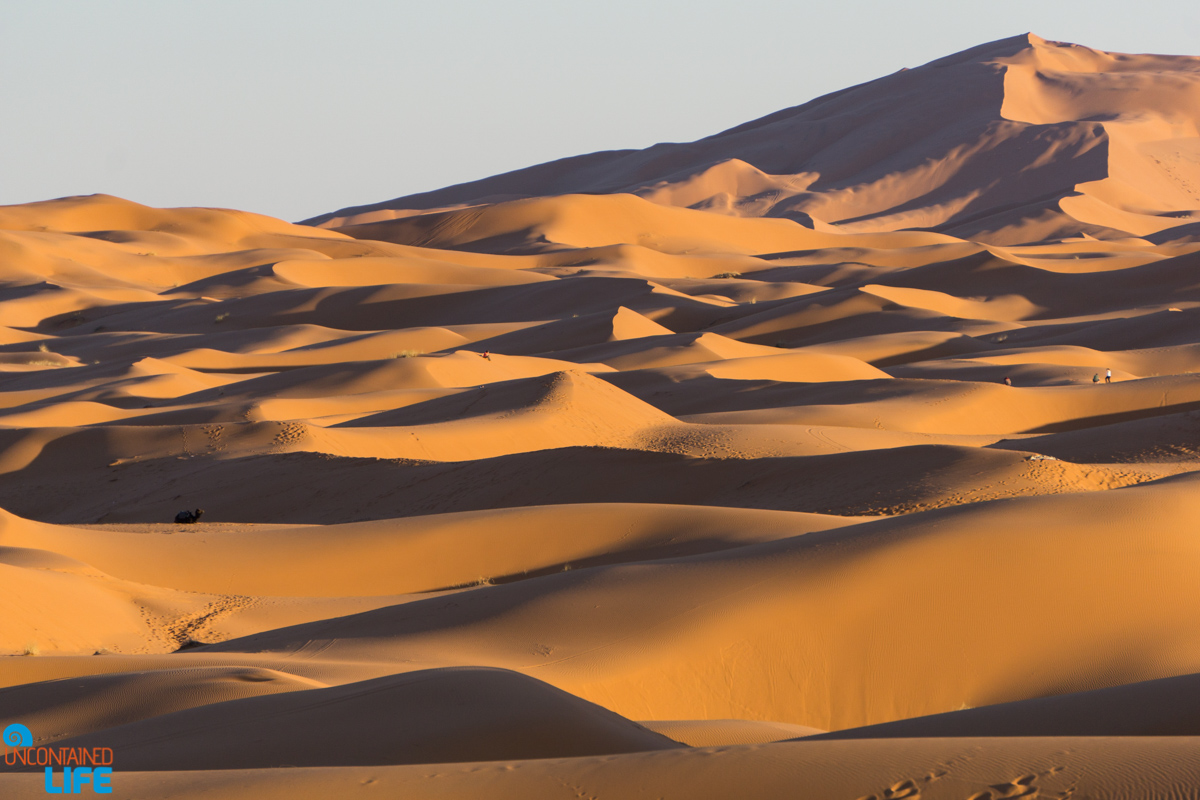 Simply getting to the Sahara is no small feat. Mile after mile passed by as we drove our rental car from Fez to Merzouga – a tiny town bordering the Erg Chebbi dunes on the northwest side edge of the Sahara Desert. There were times when endless road and scarce signs of life made us question whether visiting the Sahara Desert was the best use of our limited time. Maybe we should have spent an extra night in the Dadès Gorges instead?
We won't leave you wondering. Our first sight of the dunes instantly confirmed we had not made a mistake in coming all that way.

"And they rode off into the sunset" is usually placed at the end of a story. But, because we had met our guide in the late afternoon, our ride into the sunset was just the beginning.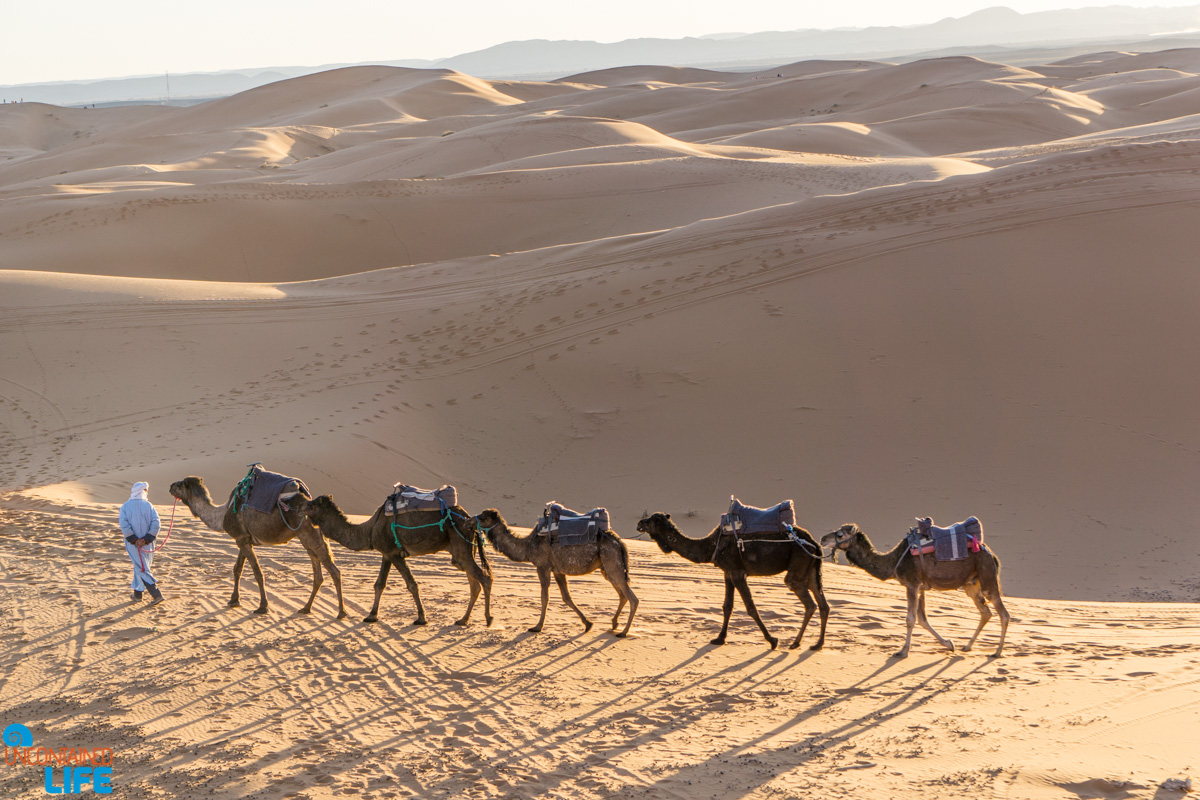 Camels rested in a straight line in anticipation of the 45 minute trek to our overnight encampment in the desert. Another couple mounted their humped rides. We then climbed up on our dromedaries and held on tight while they rose to their feet (it felt a bit like riding a mechanical bull). Then, off we went into the unending sea of dunes with Duke Ellington's standard, Caravan, playing in our heads.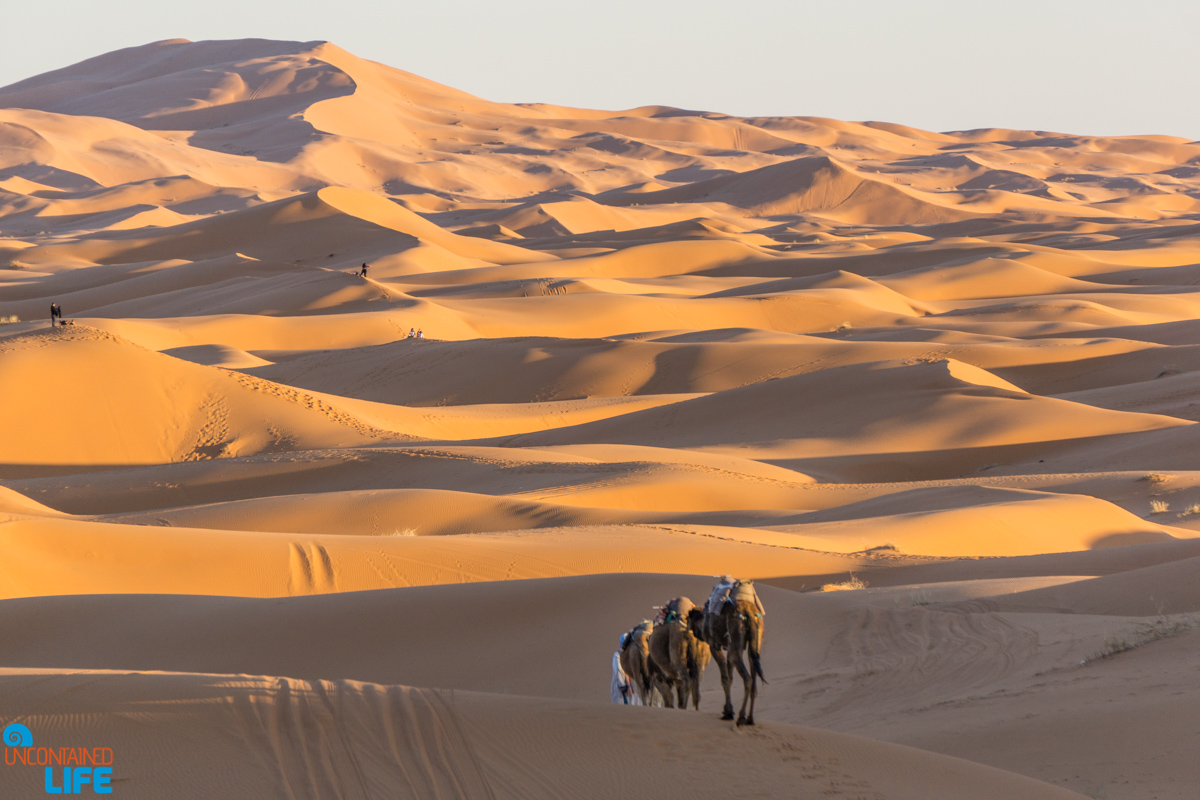 We love riding horses.
Camels… not so much.
Aside from constantly feeling off-balance, camels provide a less-than-favorable flashback to those mini-rides that used to reside outside supermarkets we begged our parents to let us ride as children. On top of that, they stink, make annoying sounds, and poop…often. All that to say, we love camels (i.e. we were overjoyed to not be walking the dunes).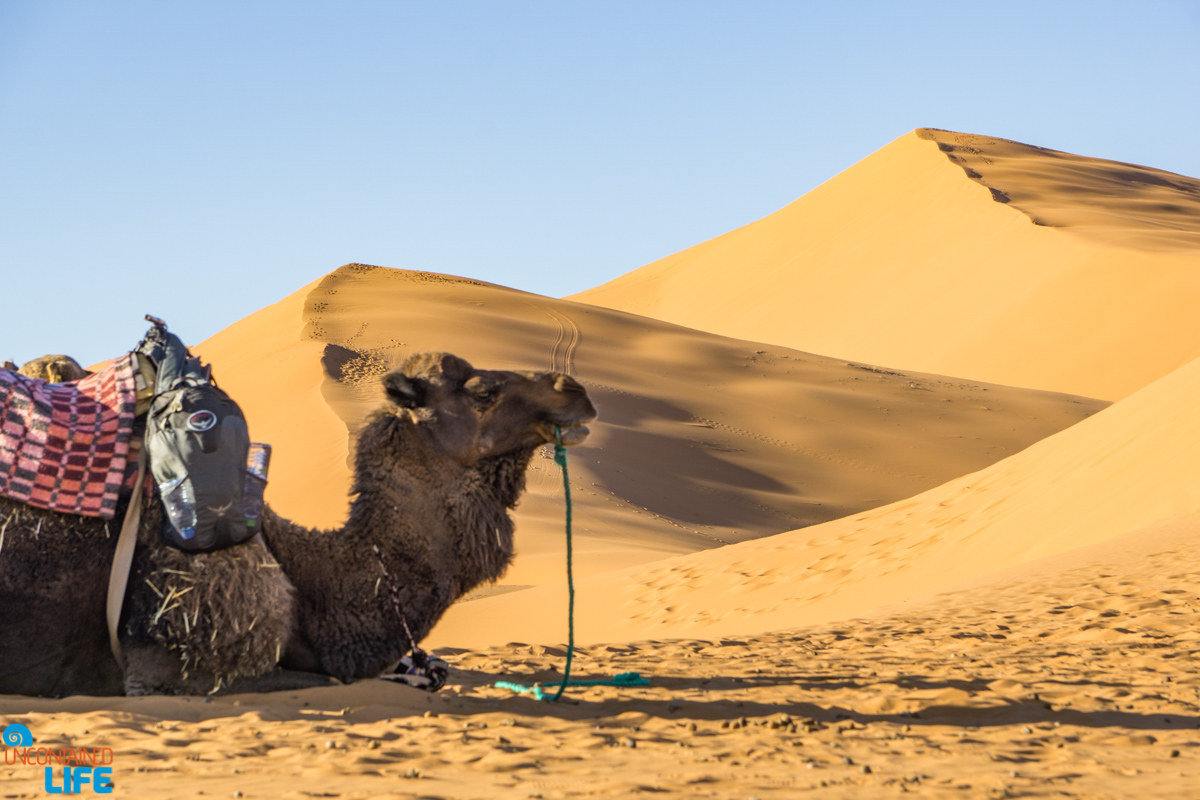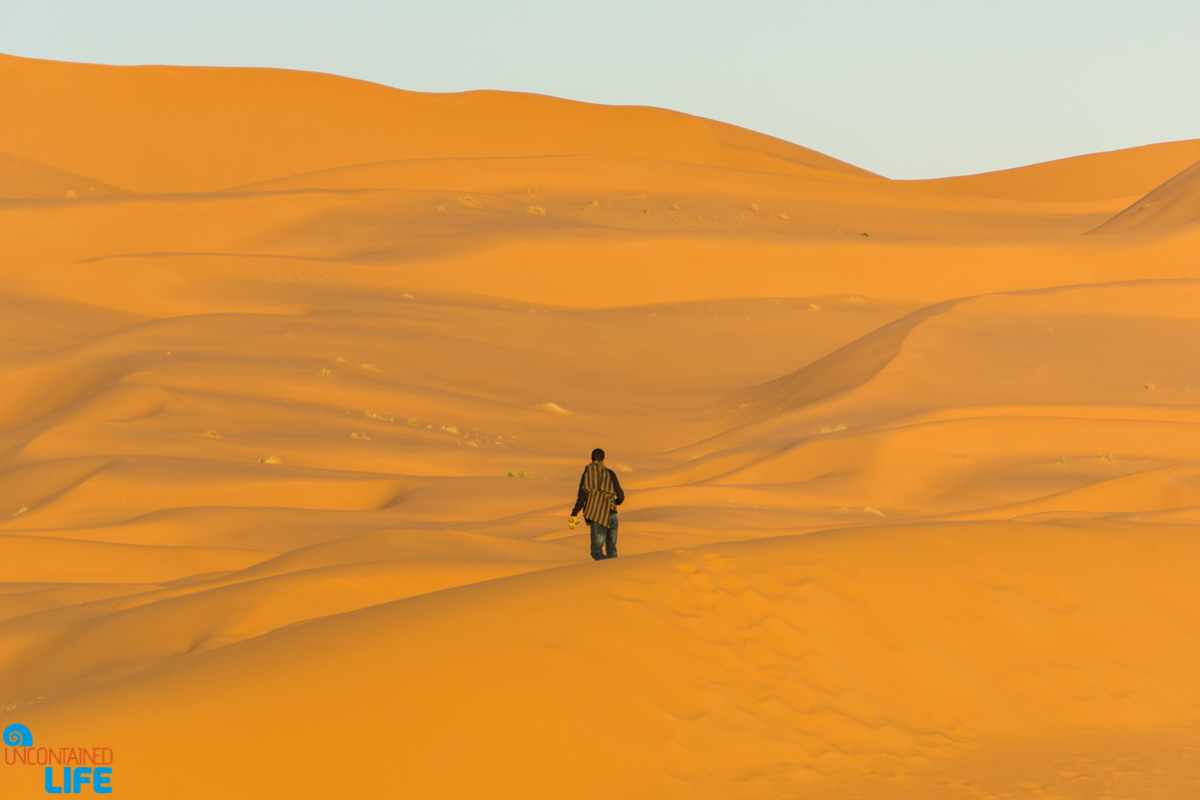 But, of course, love them or not, the camels were a means to a fantastic end: to experience the beautiful and awe-inspiring Sahara Desert landscape for sunset, evening, and sunrise views. Said landscape did not disappoint.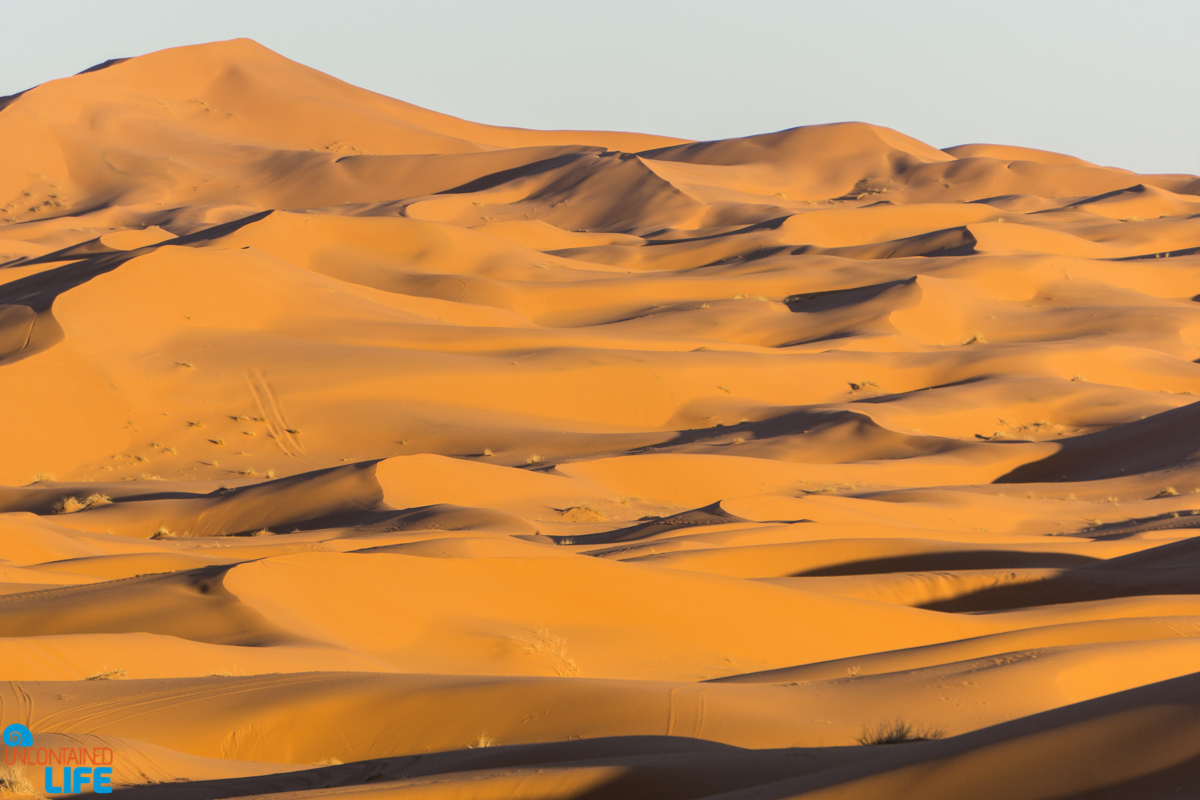 As daylight begins to wane, the colors, textures, and shadows of the dunes shift constantly, painting a new (but always breathtaking) landscape each moment. The color palette will be pale yellow one moment, then change to pink, orange, green, red, and purple the next.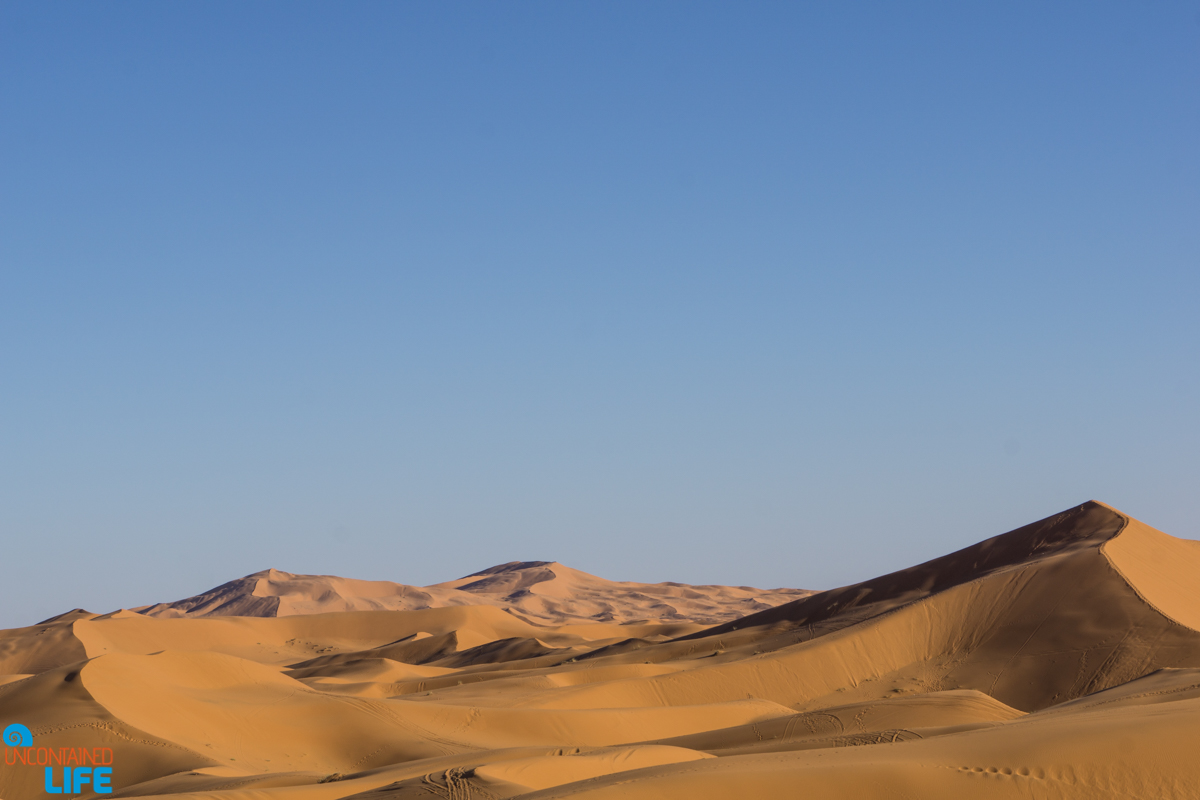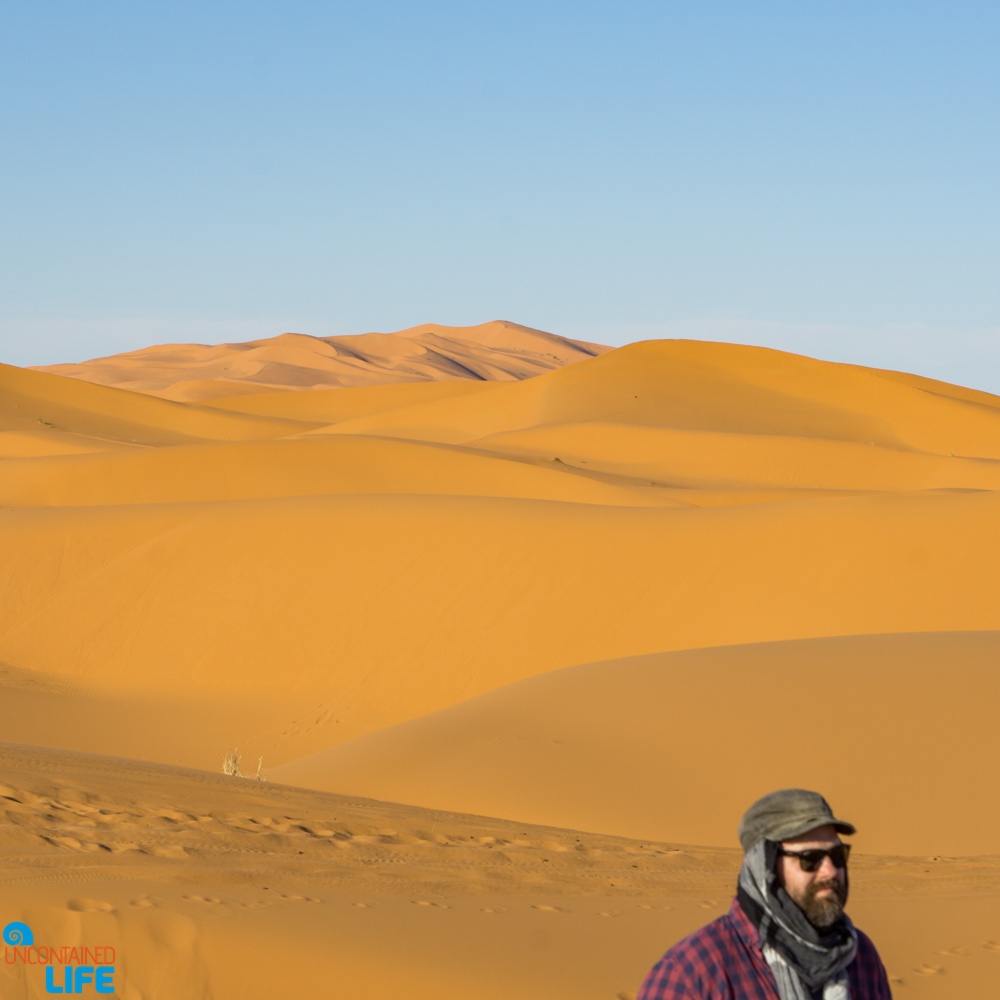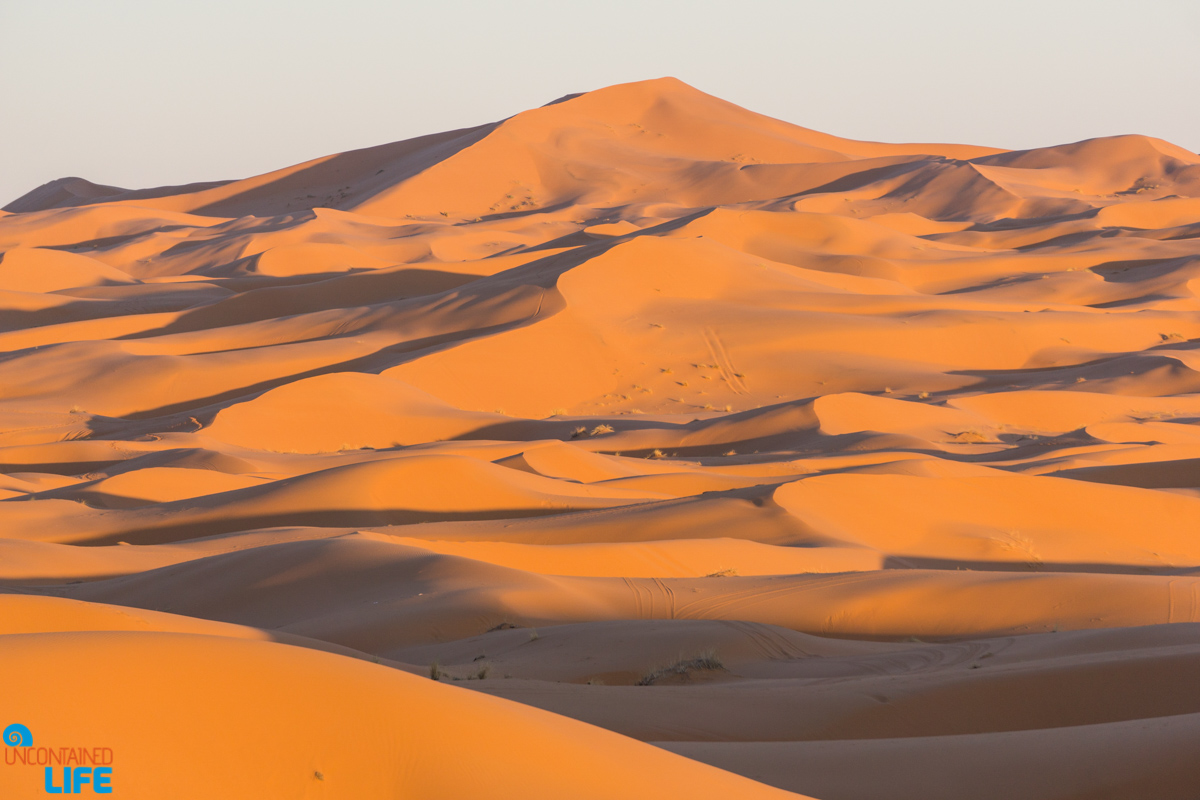 We spotted a number of other tourists using the final hour of daylight to enjoy dune hikes, 4×4 off-roading, sand boarding, and photographs (so many photos).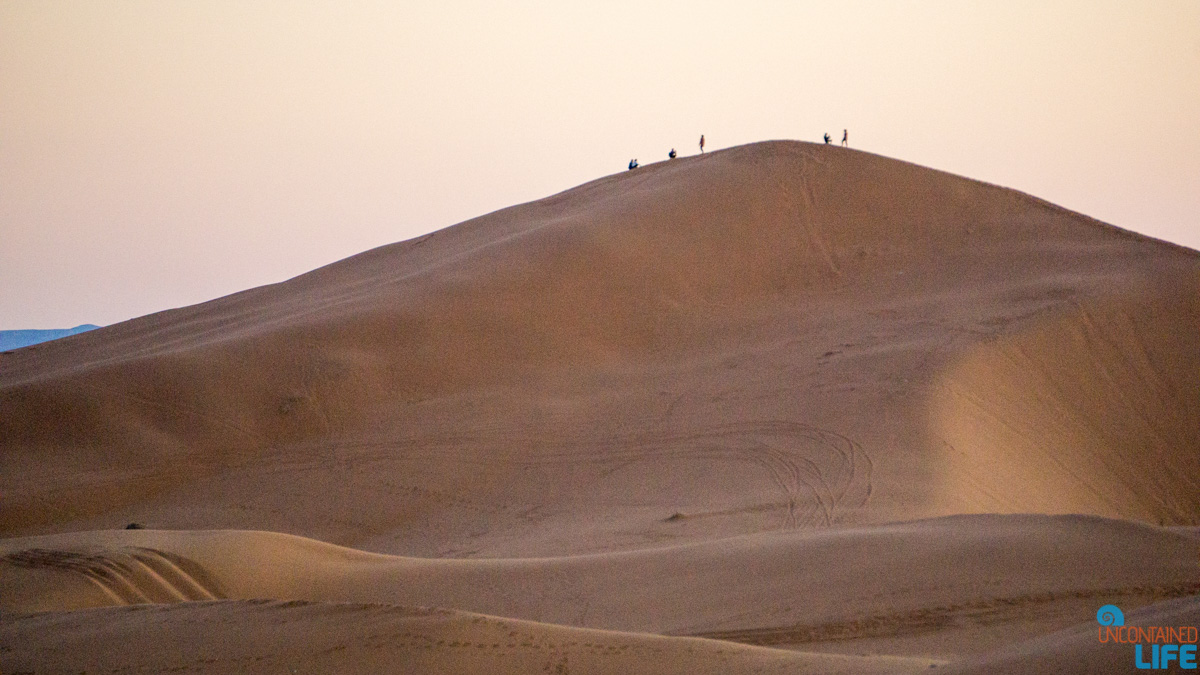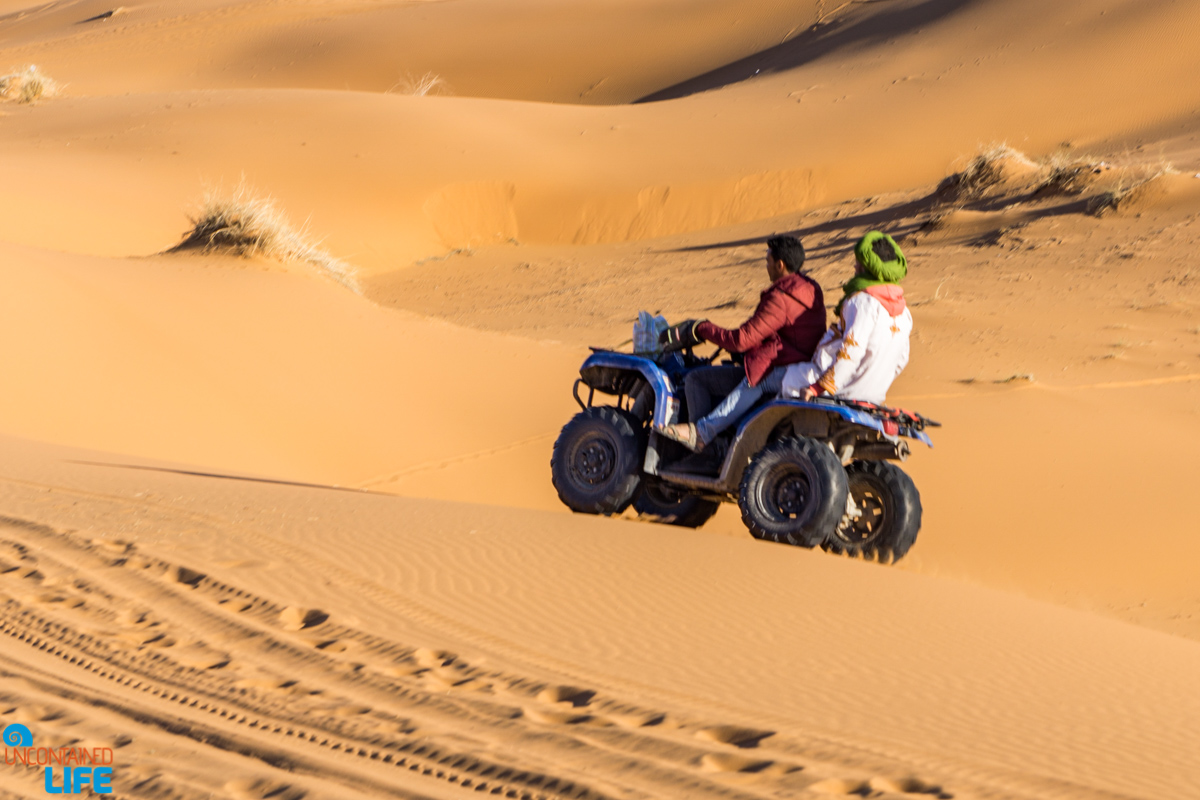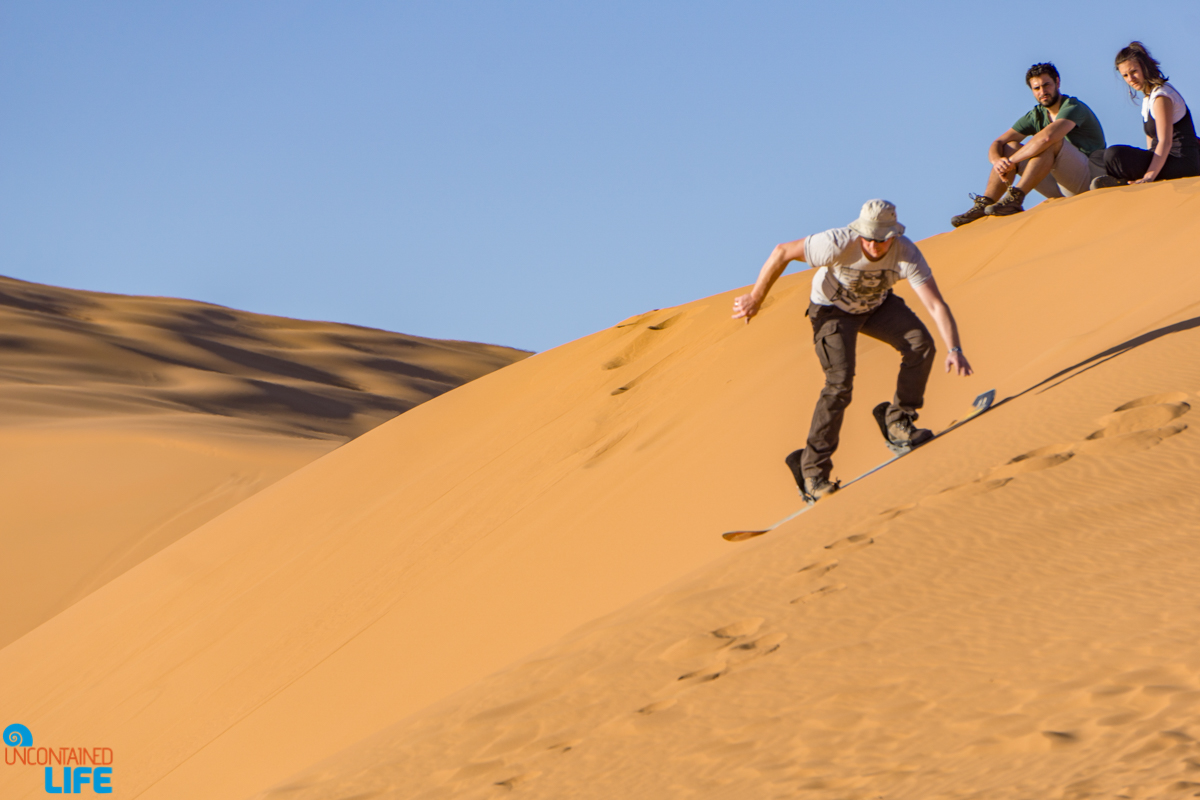 We had picked a budget-friendly desert camp so our accommodations weren't necessarily the Ritz Carlton (but who cares?? you're in the Sahara!). That said, most of the tour companies have the same basic set-up: a ring of semi-permanent Bedouin-style tents around a central fire pit. The evening meal consists of traditional Moroccan chicken tajine (Moroccan stew) served family style, tea and cookies. At our camp, isolated tables and chairs were placed at the top of a dune for ideal Sahara views. We also had a camp cat prowling the grounds.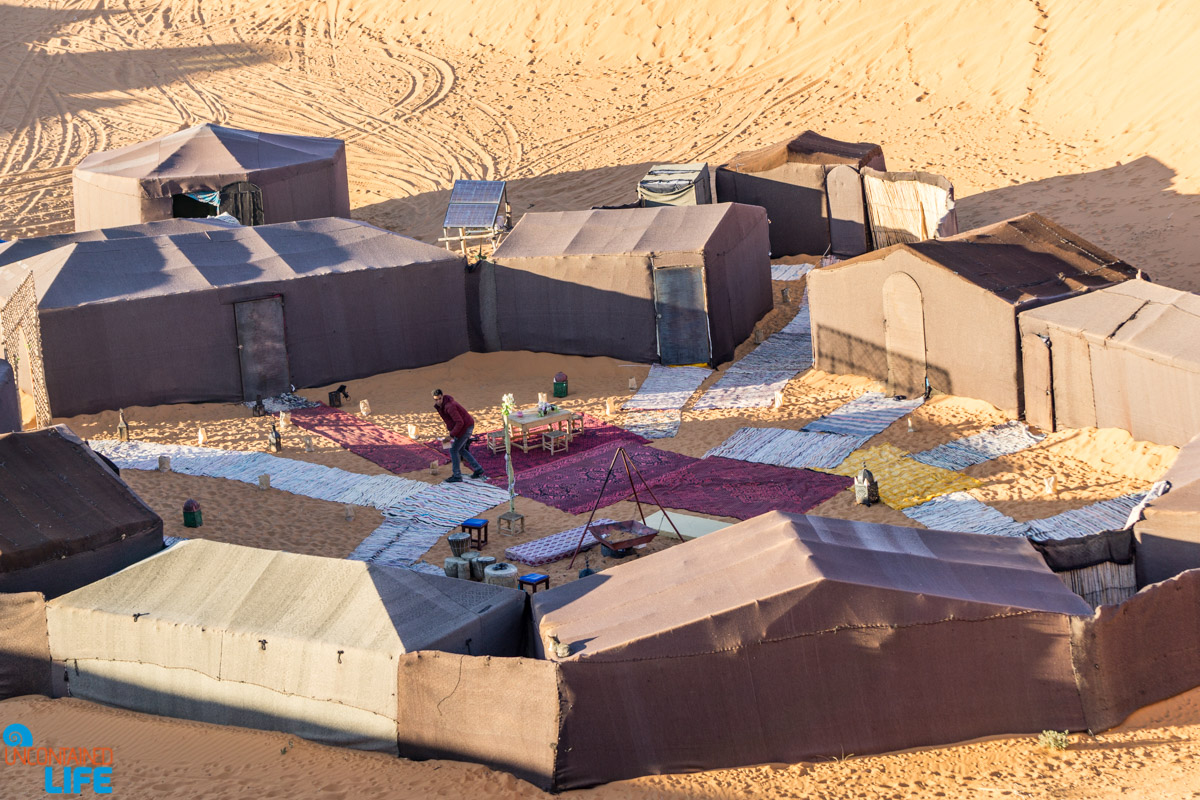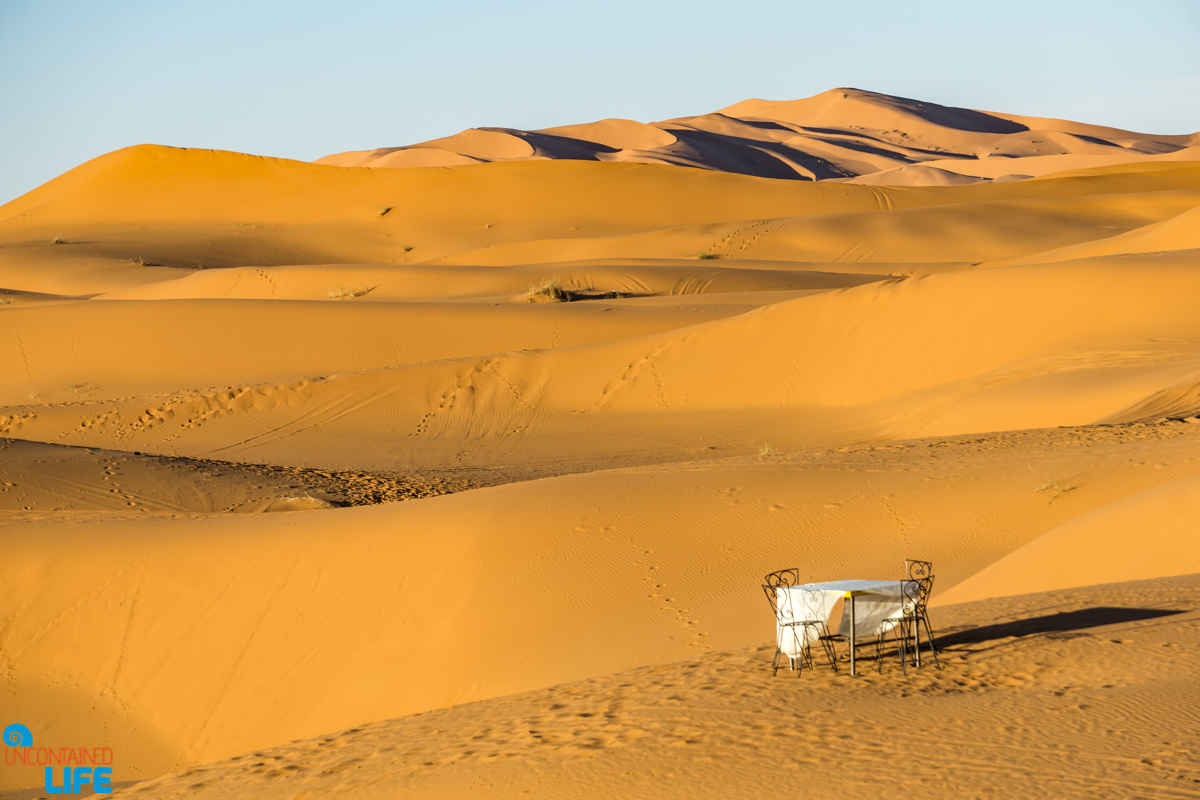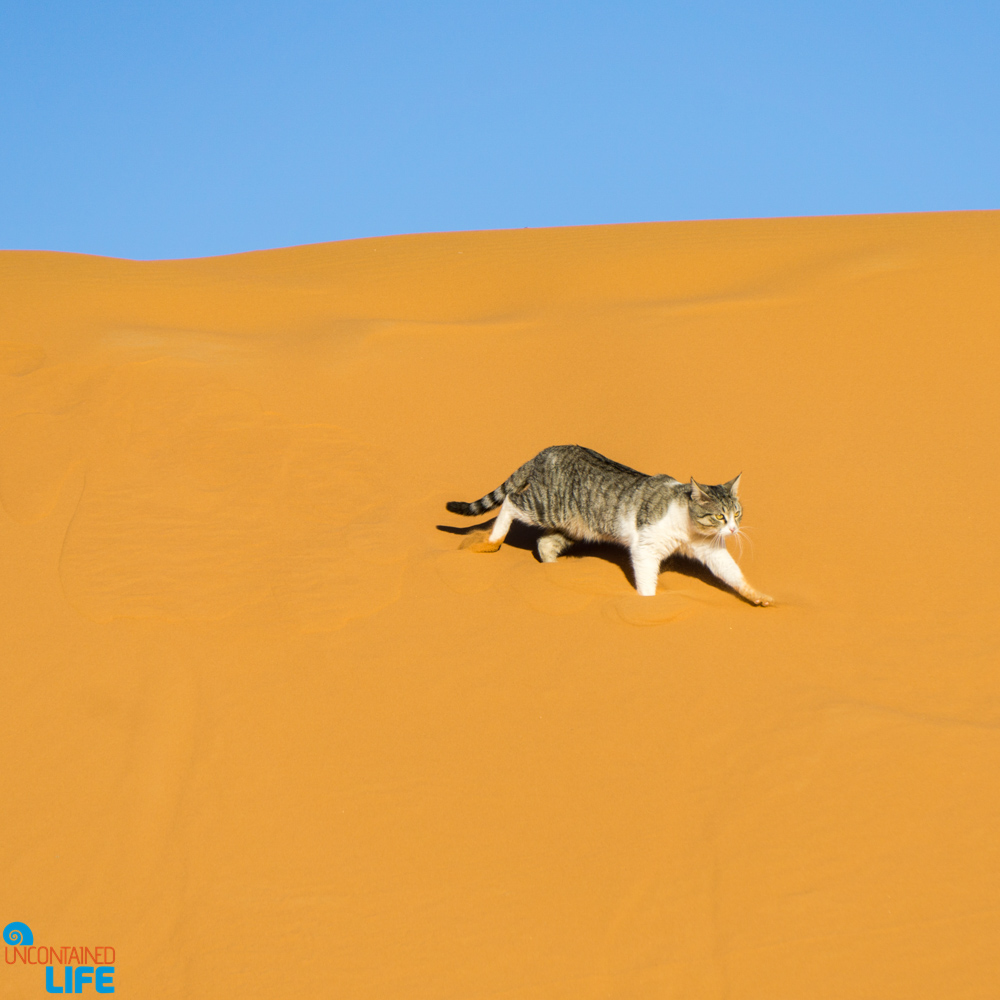 The ultra fine sand (that will end up in every available nook and cranny of your clothes, baggage, and person when visiting the Sahara Desert in Morocco) makes miniature wavelike patterns against a massive backdrop of sand swells resembling the ocean.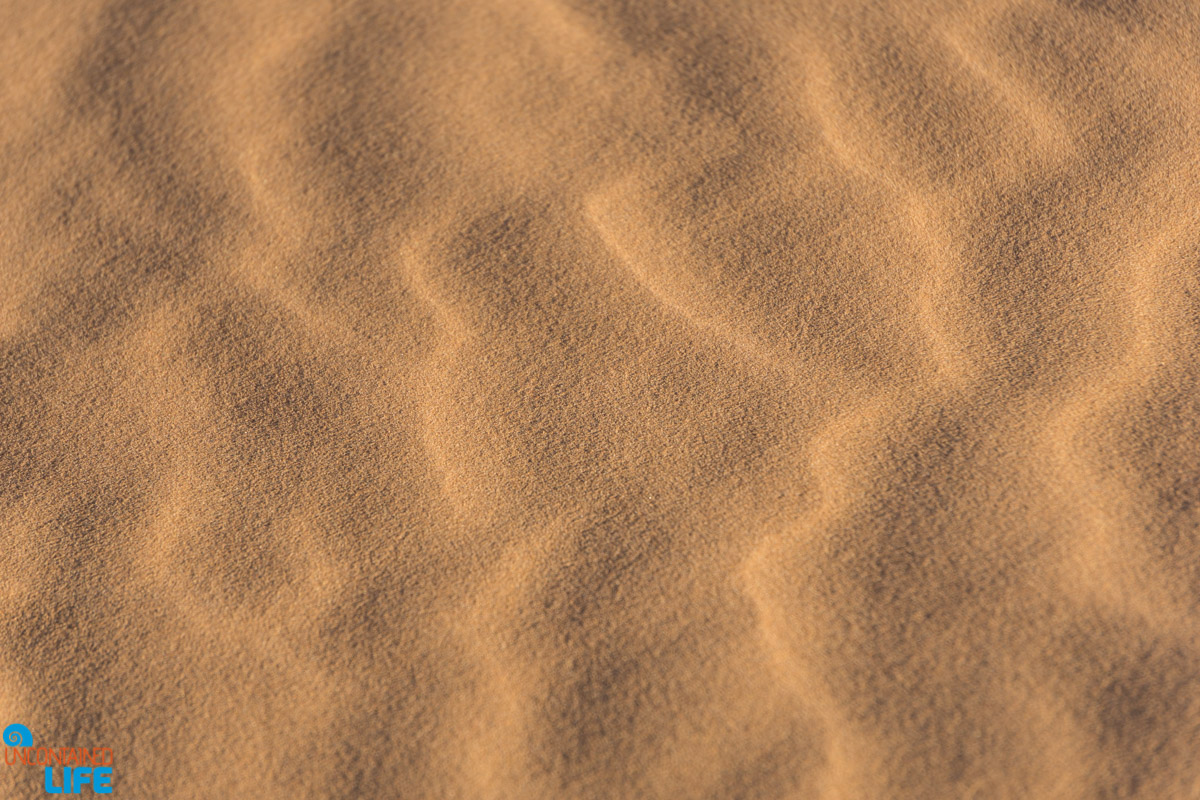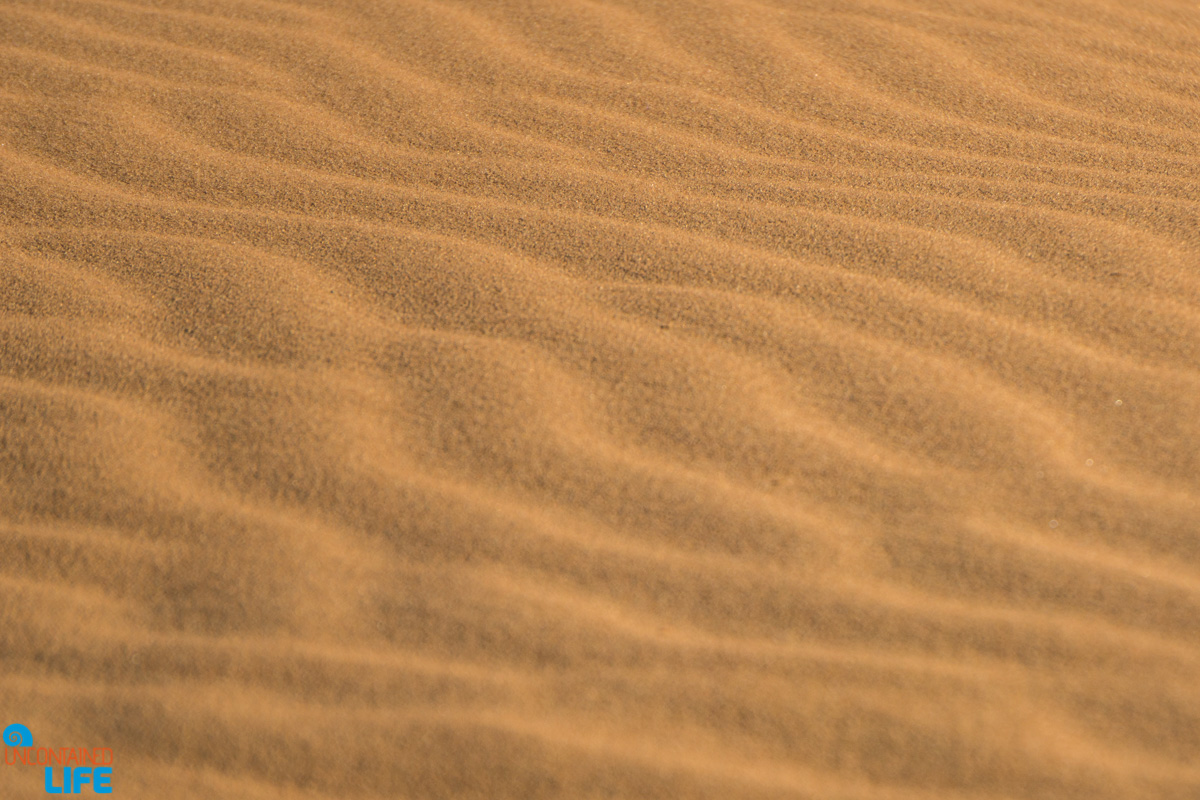 And it is impossible to stop admiring all the patterns, lines, and shapes of the dunes.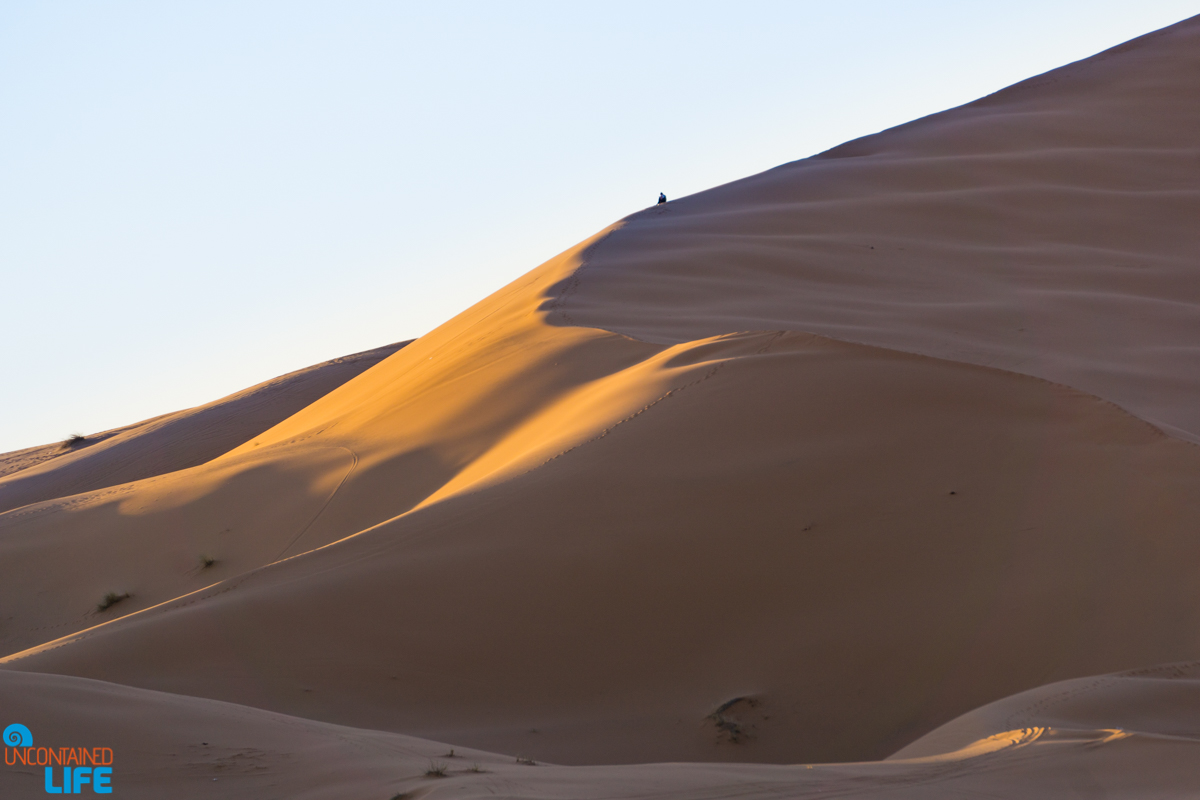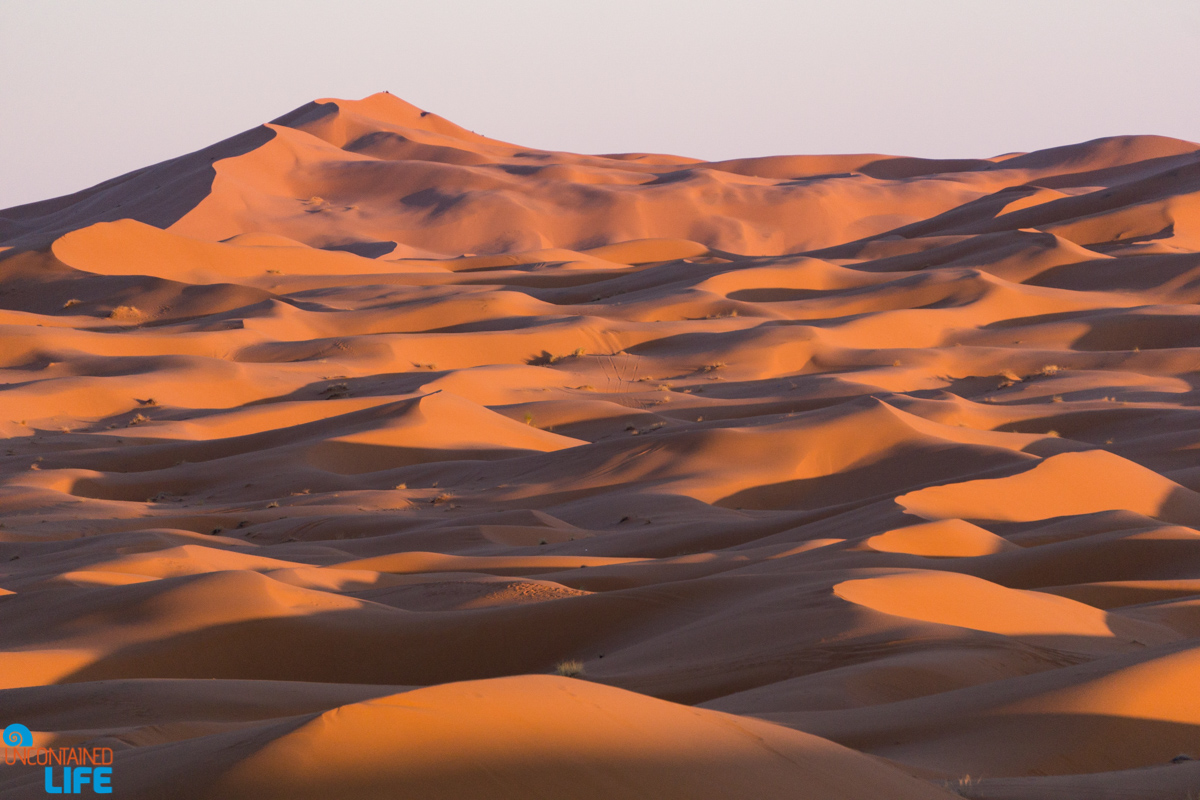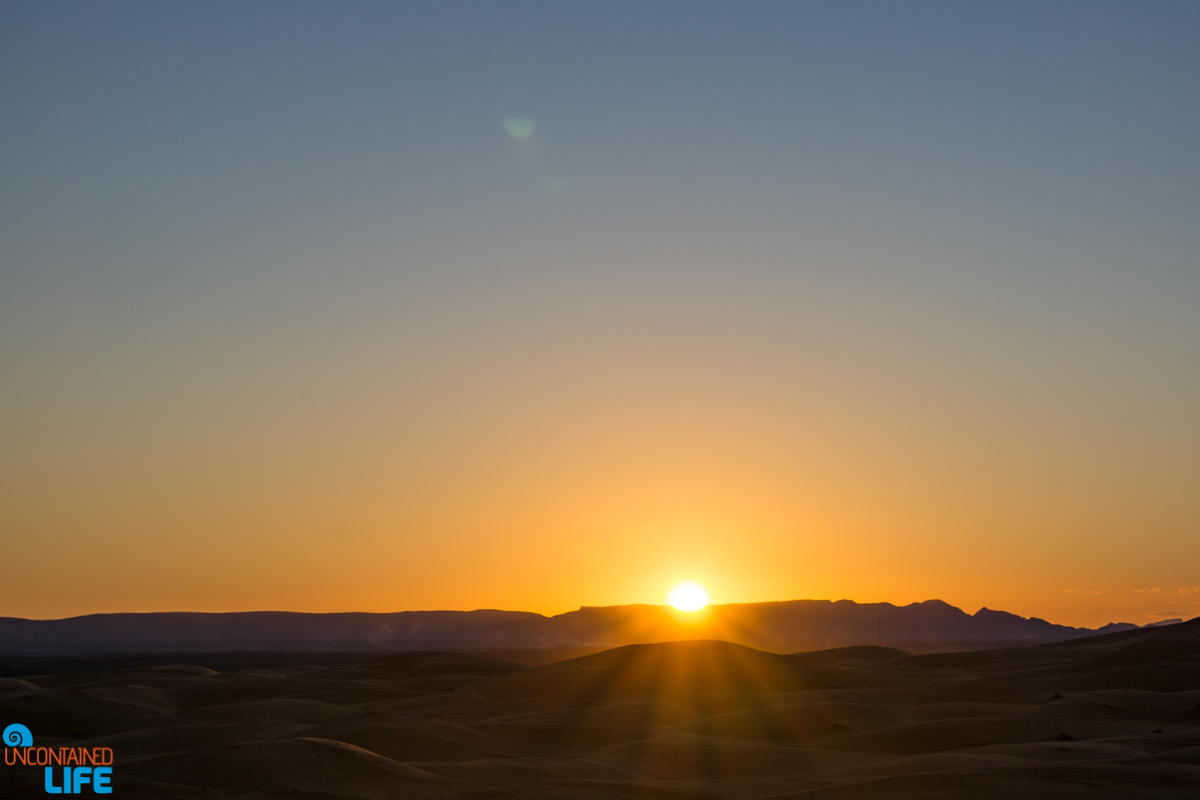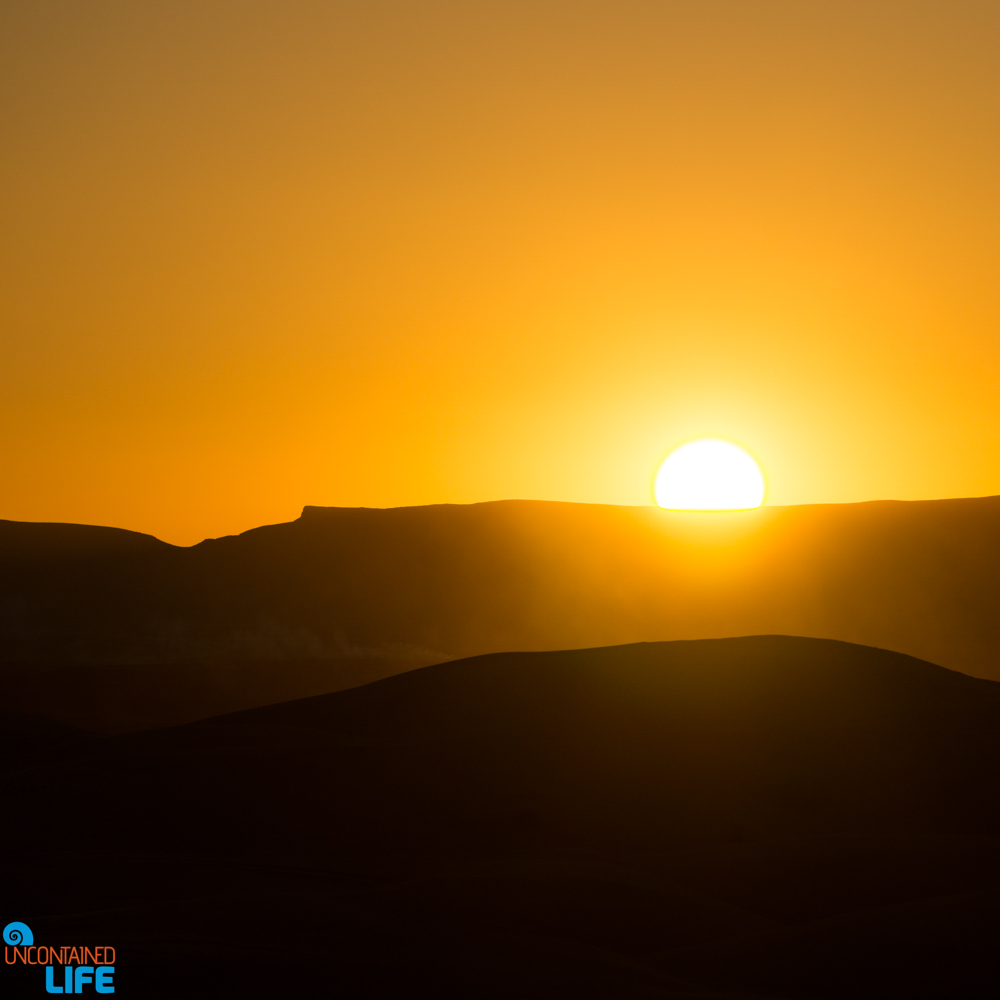 After what seems like an age, the sun dips below the distant desert horizona. The shadows overtake the dunes and the stars reveal their multitude. The only thing left to do is grab a drum and join in the evening bonfire, enjoy the night sky, and look forward to the morning. 
Is visiting the Sahara Desert in Morocco worth the effort? Yes. Yes it is.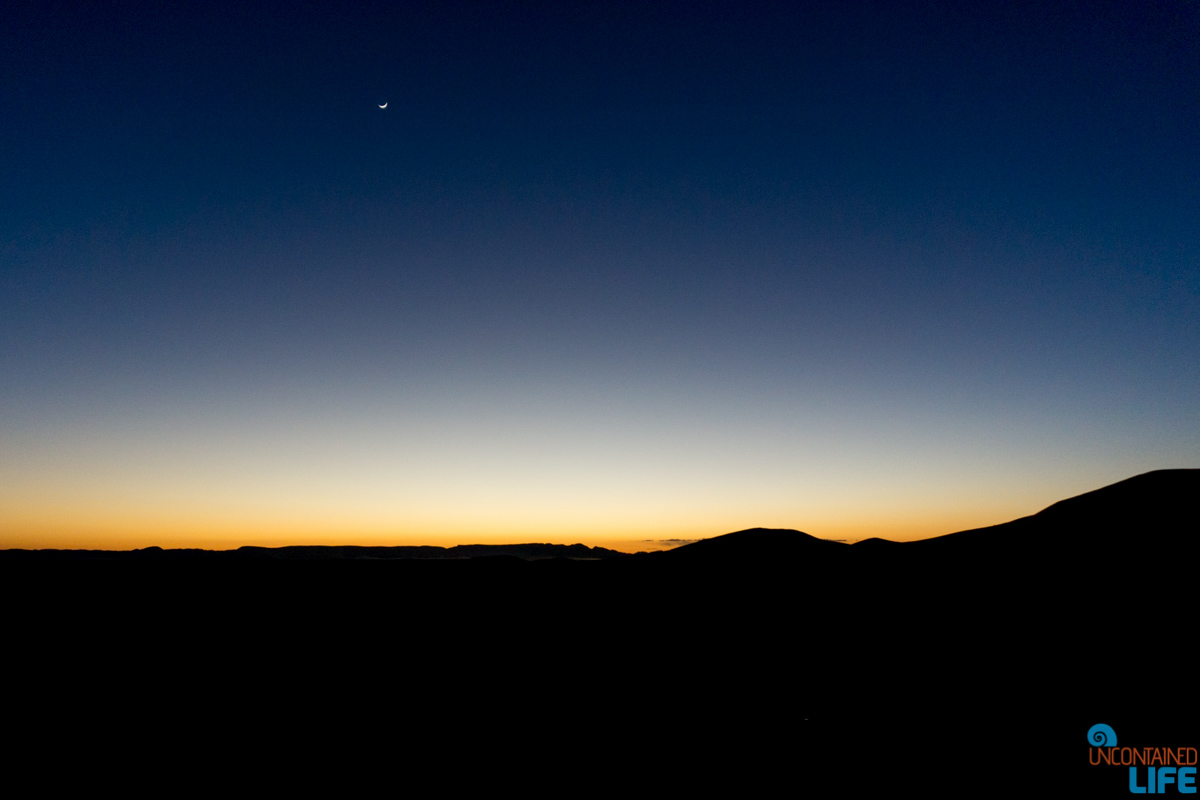 ---
Travel Tips for Visiting the Sahara Desert in Morocco:
How to get there: The quickest and most comfortable way to get to Merzouga is via rental car. Having your own car also allows you to make stops en-route to the desert (see our article on our road-trip route for ideas!) Note: Driving in Morocco is inexpensive and fun, but there are some country-specific quirks which you might want to know before hitting the road. Check out our tips for renting a car in Morocco HERE.
Alternately, you can take the bus from Marrakesh or book with a tour company in any major city (these tours usually last 3-5 days and include a number of sights/ activities in addition to the desert camel trek).
Booking a tour: You can book your overnight camel trek in advance (preferable if you want to ensure you are selecting a reputable operation), or find one once you arrive in town (people offering tours abound). Justin and I booked our camel trek overnight with Mohammed, via Airbnb. (If you are new to Airbnb, you can get up to $40 off your first adventure by clicking HERE!) 
Costs: 1 night camel treks can range in price from around $35 (for a more basic desert camp) to $200 (for more luxury accommodation) per person. This cost typically includes a place to keep your car (if applicable) and luggage; your camel ride into and out of the desert; overnight tent accommodation; dinner at the camp; and breakfast (and the chance to shower/ change clothes) back in town.