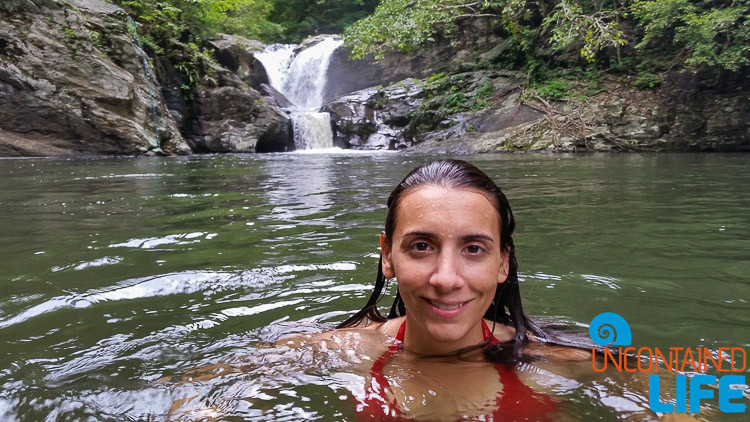 What better way to get off the beaten path than to go even more off the beaten path to find waterfalls in Palawan?
We were in Langogan on the island of Palawan in the Philippines and the owner of our accommodations, our host, had suggested a day trip to "the waterfalls."
Unless you know how to get there, it is difficult to find and even more difficult to reach…which meant that we had to say "yes!"
Our guide was a young, entrepreneur from France who had come to Langogan to help take care of the eco resort where we were staying while he learned how to cultivate mushrooms.
We took a short journey to an unmarked trailhead and a one-hour hike into the jungle. Most of the hike took us alongside a river. Part of the trail was obvious, other parts were guesswork. We scrambled over boulders, cut through bamboo forests, waded in shallow pools, and had to push our way waist-deep against a strong current.
We finally arrived at our destination. Olanguan Falls! We know there are many waterfalls in Palawan, but, we think this one is awesome. 
The waterfall has a giant pool. There is great place to jump from the side of the falls into the deep pool. There is also a twenty-foot rock to jump off of (if you are brave enough to climb).
If you want to relax, the shallow end of the pool has barely a foot of water and is a great place to stay cool while being treated to an all-natural spa fish treatment.
The best part was that we were the only people at the Olanguan Falls. There is something to be said about getting off the beaten path.
Are you on Pinterest? Pin this post!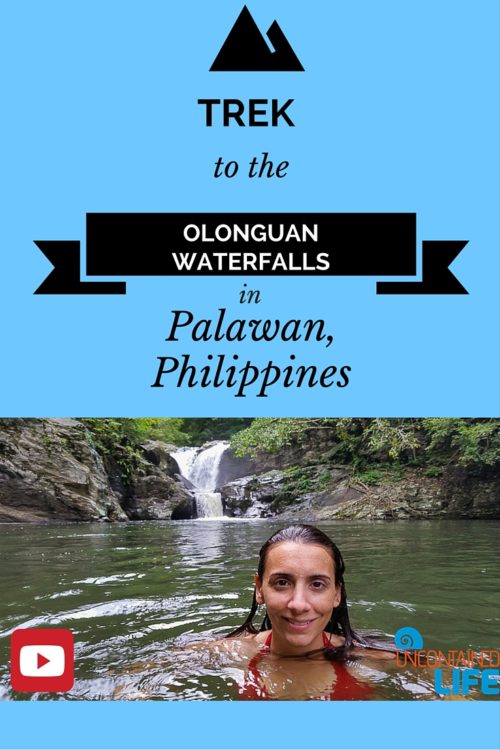 This video was shot using my trusty GoPro. If you want to jump in waterfalls, snorkel the reefs, raft down a river or and do any other active adventure you can think of, bring your GoPro.