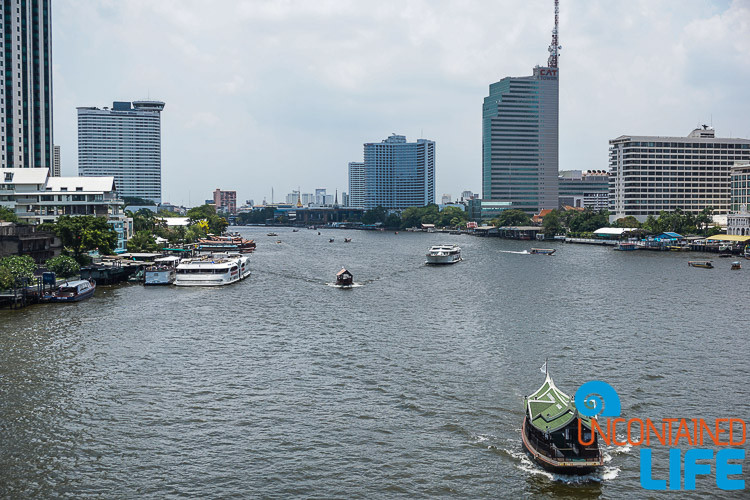 Let's be honest: Bangkok, Thailand has kind of a bad rep. And given what most travelers choose to do in Krung Thep–the "City of Angels"–it's easy to see why. When the itinerary for a day in Bangkok (the average timeframe vacationers give to Thailand's capitol) consists of a jet-lagged afternoon touring the Grand Palace and a night of drinking on Khao San Road, it's small wonder that the city seems like a "crowded" and "dirty" tourist trap.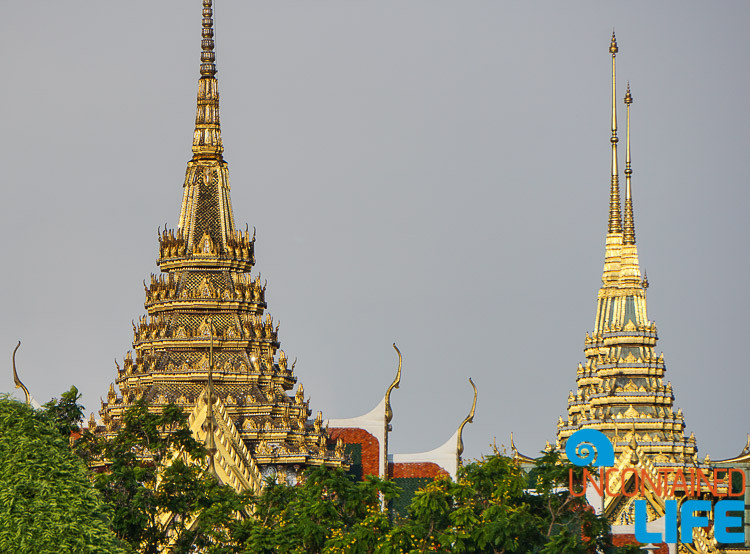 Having read these sorts of negative reviews of Bangkok, Justin and I were braced for the worst when we decided to spend a great deal longer than 24 hours in the city this past April. We knew it would be blisteringly hot (which it was…oh…it was), but we certainly didn't expect the beauty of the Chao Phraya River at sunset; or the flavors to be found at local street-food-mecca, Tha Din Daeng Road; or even the quirky delights of the city's cinemas and shopping malls.
In short, we found that it's not difficult to have a wonderful experience in this diverse and dynamic city (even if you do only have a single day)…you've just got to know where to look! With that in mind, we've come up with a one-day itinerary for a non-cliched Bangkok experience: Uncontained Life's pick of the city's best sights, as well as some things to see and do that will take you beyond the tourist hot spots.
Morning: Coffee & Culture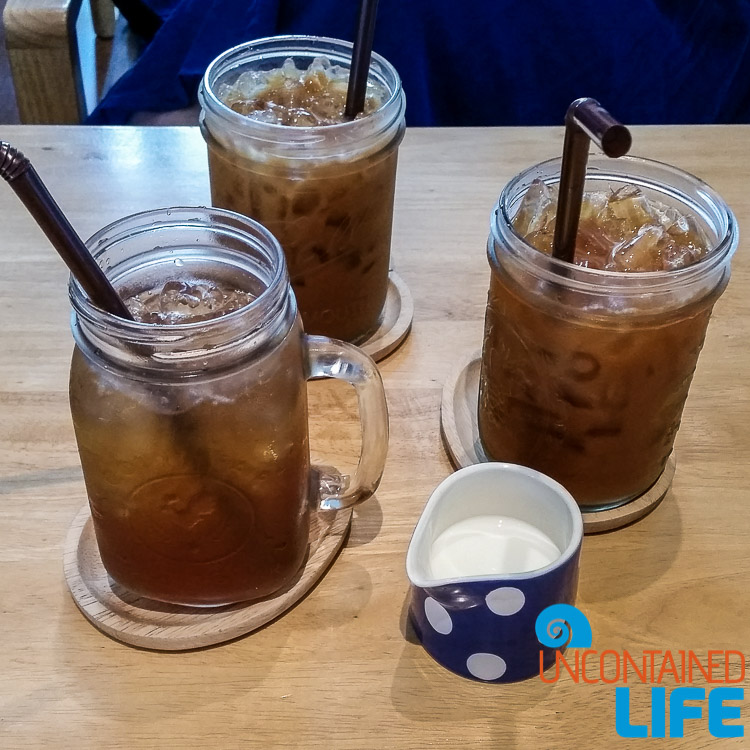 Take advantage of the cooler morning hours to tour one of Bangkok's major cultural sites. Unless you've made the (unfortunate) choice to stay on or near Khao San Road, that means a boat ride on the Chao Phraya River! If you're staying in the downtown area, hop on the Skytrain to Saphan Taksin to catch an upriver Express Boat at the Central Pier.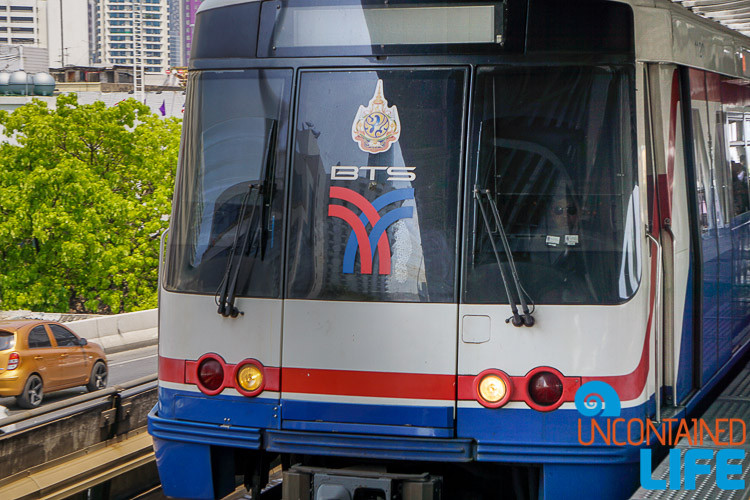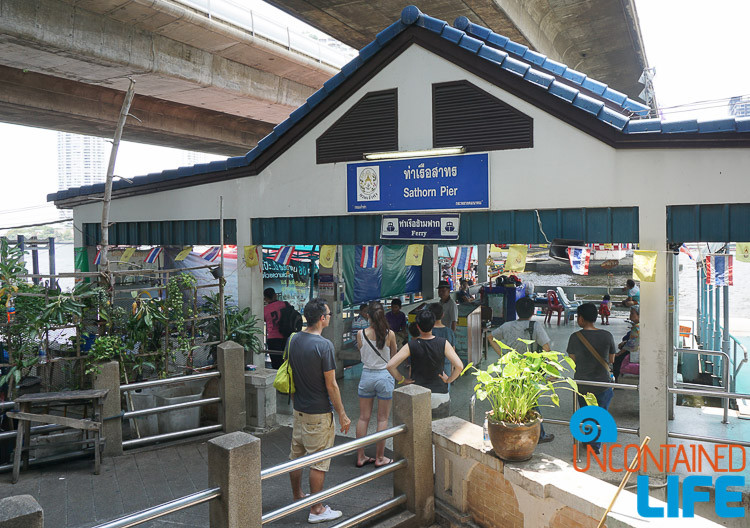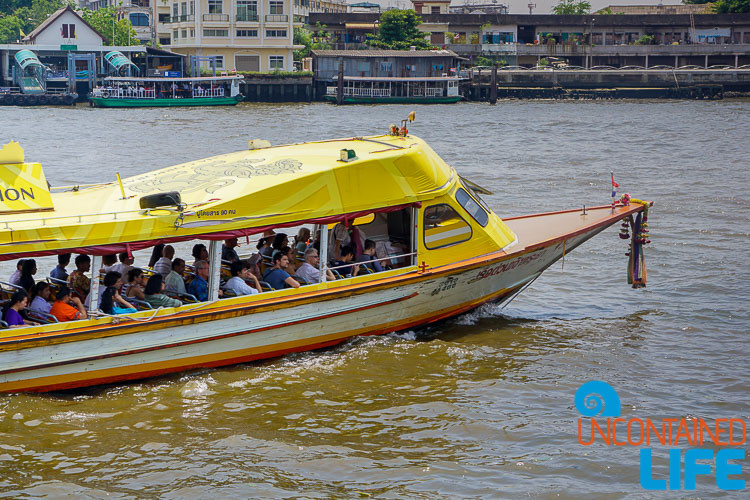 Once at Central, you have a choice: either hop on an Express Boat straight away, or, if you like a little caffeine before your culture, get on a cross-river ferry first (3 baht, paid either before entering or after exiting the boat) and making a pit-stop at the Study Room Coffeehouse (located on the 2nd floor of the VUE by The River).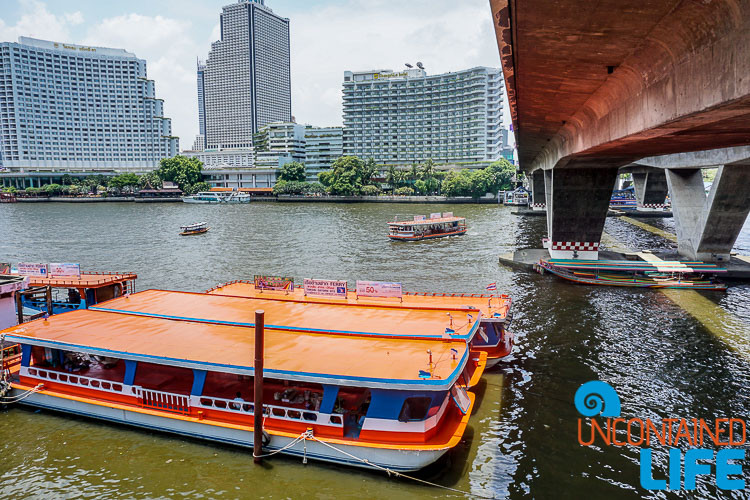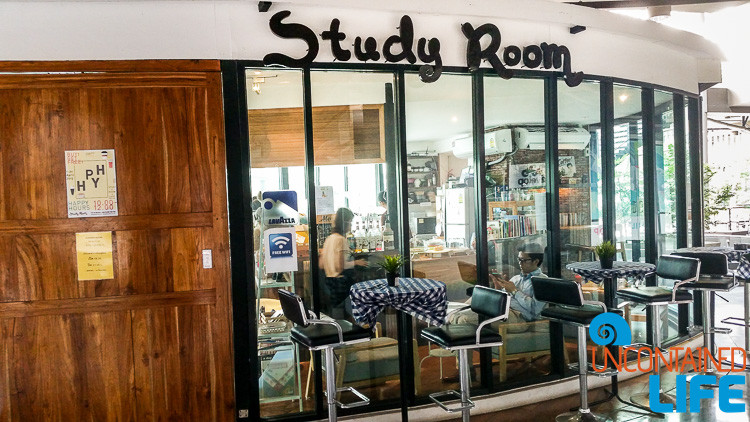 Not only is the Study Room a locals-only hangout (particularly for students), it has the BEST iced coffee we've found in Bangkok (if you're in need of breakfast, they also have a few Thai and American-style food options).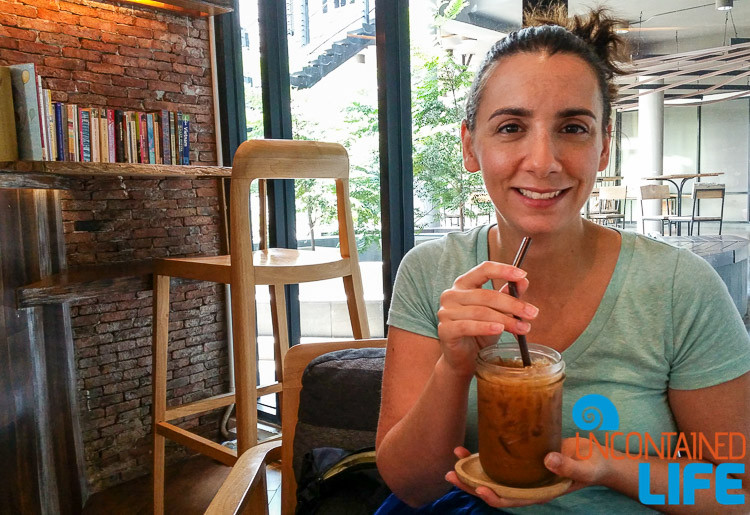 Once your coffee's been consumed, head back at the Central Pier (you can take the ferry again or climb up and cross the bridge that runs above the pier on foot). Once there, you'll want to purchase a ticket for the Orange-flag boat (15 baht) not for the Blue-flag tourist boat (which is almost twice as expensive). If you don't see anyone selling tickets, don't worry, you'll be able to buy on-board the boat.
** Exact change is appreciated, but not required.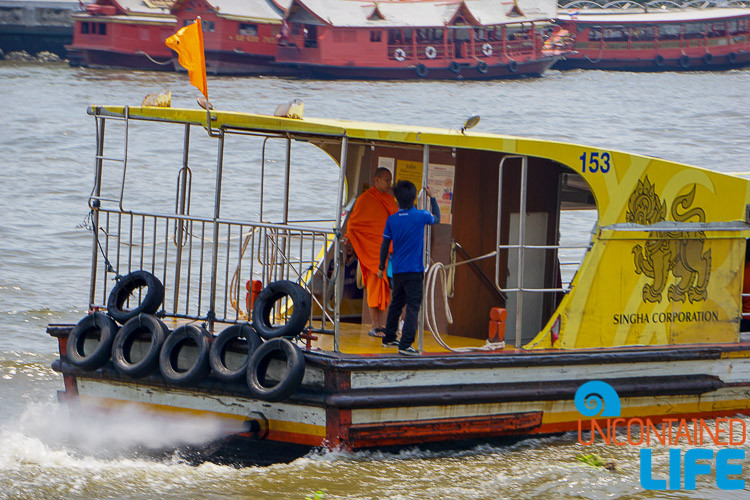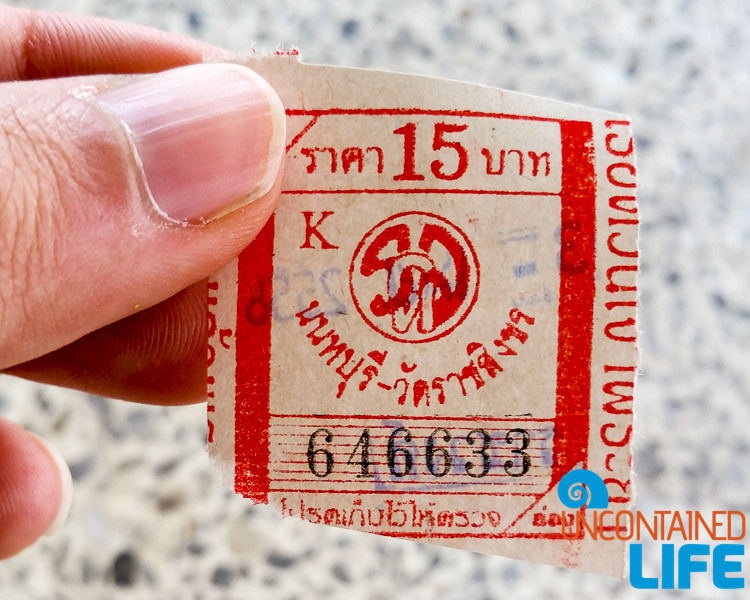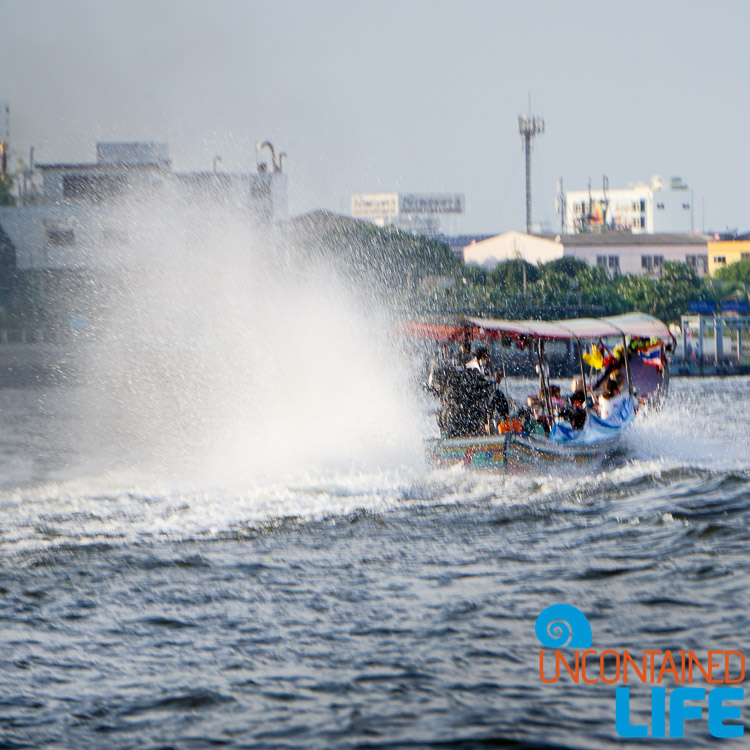 **Unless you actually want to charter a private longtail boat, don't pay attention to anyone who approaches you at the pier with an offer to take you up the river. If you do choose to charter a private boat, haggle hard (but politely).
As you head upriver you'll be able to spot a number of temples as well as other historic sites, like the Royal Thai Navy Dockyard and the Old Customs House.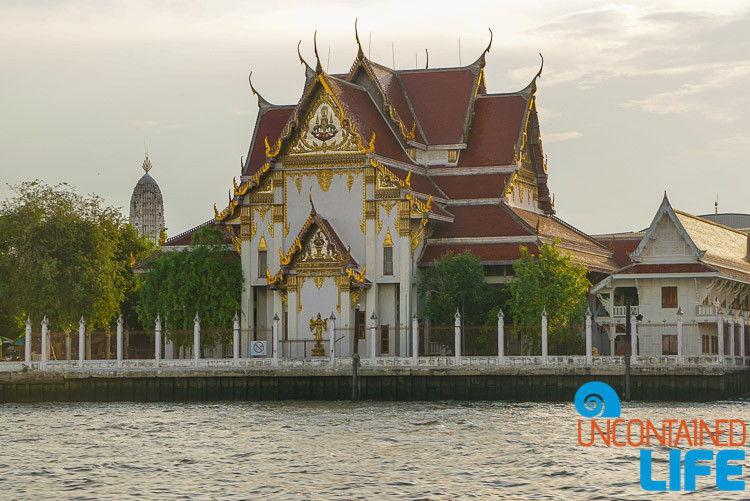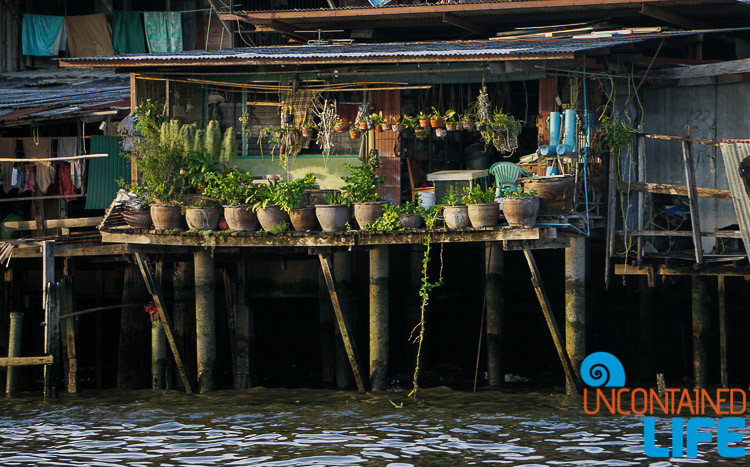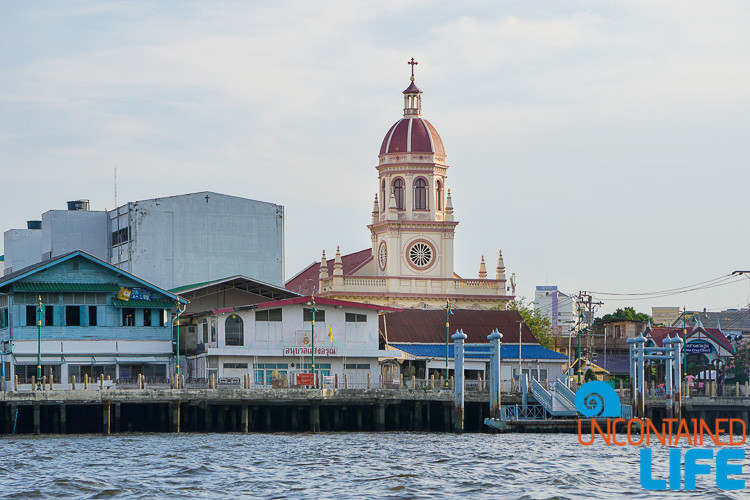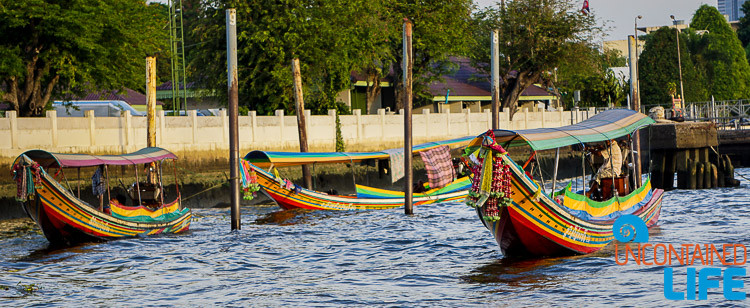 Hop off at pier #8 to visit Wat Pho (the Temple of the Reclining Buddha) or pier #9 to visit the Grand Palace. These two sites are Bangkok's "heavy hitters." Both are very large, popular with visitors and similar in terms of displaying classic Thai architecture. For folks spending just a day in Bangkok, we'd suggest picking one of the two–we recommend Wat Pho (less expensive, usually fewer people, more shade and a more relaxed environment overall).
Visitor Info. for Wat Pho: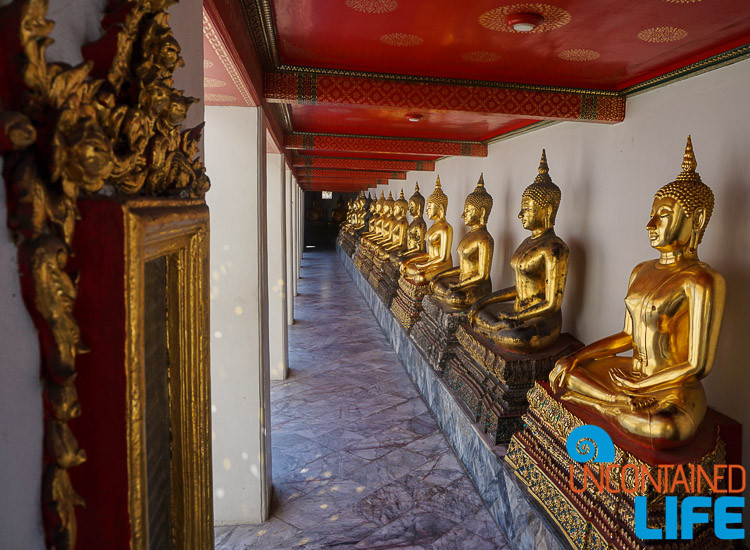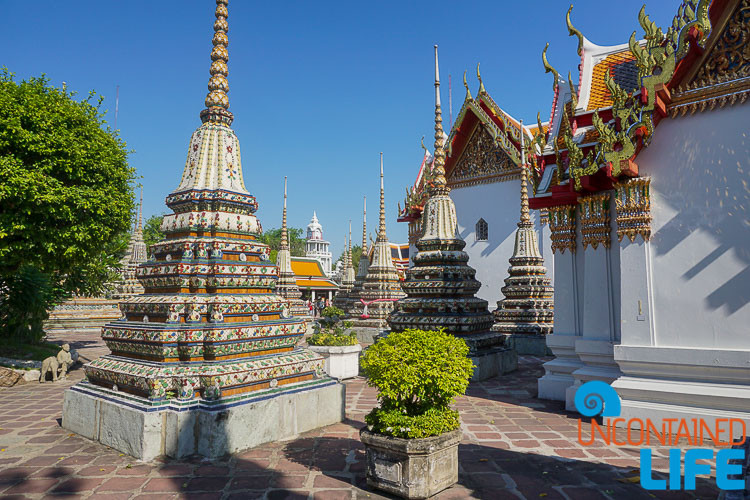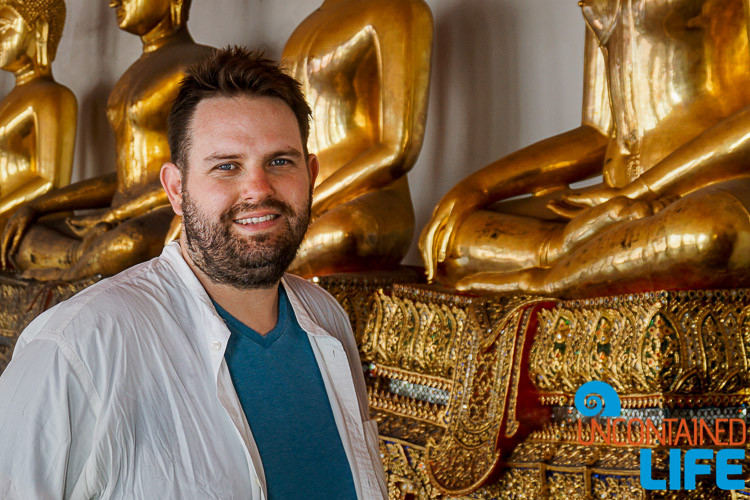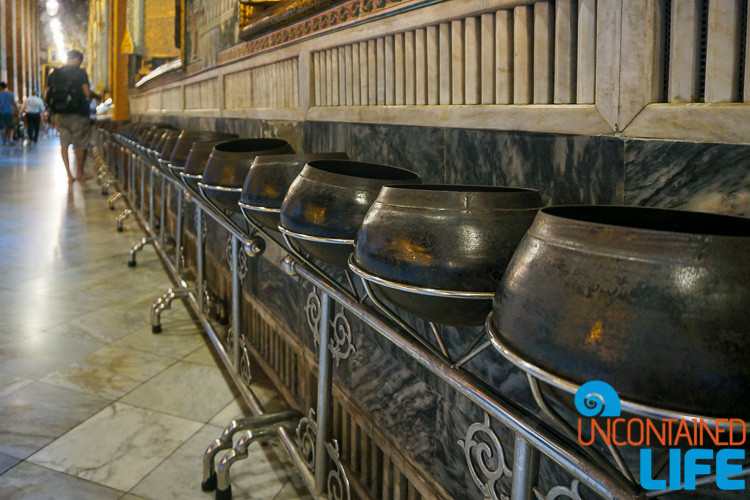 What it is: Wat Pho is both the largest and oldest Wat in Bangkok. It's main claim to fame is its giant, gold-plated Reclining Buddha statue–the biggest in Thailand (46 meters long and 15 meters high); the Wat also hosts the largest number of Buddha images in the country. Unlike the Grand Palace there is no set route through Wat Pho–wander freely and enjoy discovering the grounds' various nooks and crannies.
Where it is: 2 Sanamchai Road (off of Pier 8)
What it costs: 100 baht/ person (includes a free bottle of water). Note: The cost for foreign visitors was supposed to be upped to 200 baht/ person on Jan. 1, 2015, but as of April 2015, the cost to enter was still 100 baht/ person.
When it's open: Every day from 8am to 6:30pm.
Dress code: Moderate. Shorts and tank tops aren't appropriate, but t-shirts and knee-length items are fine. If you forget to follow the dress code, you will still, most likely, be allowed onto the temple grounds. You will need borrow (for free!) a sarong to visit the reclining Buddha if you aren't dressed conservatively, however.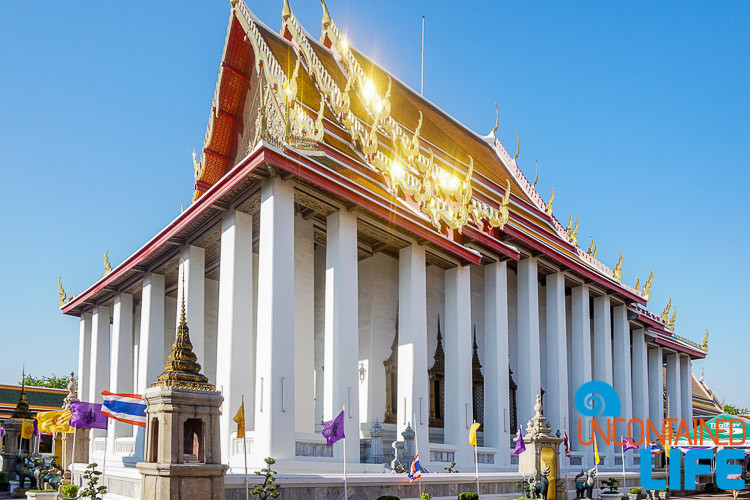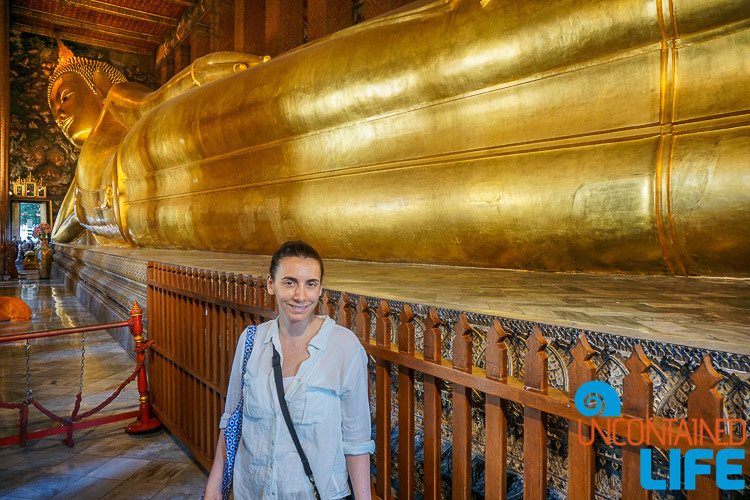 Visitor Info. for the Grand Palace: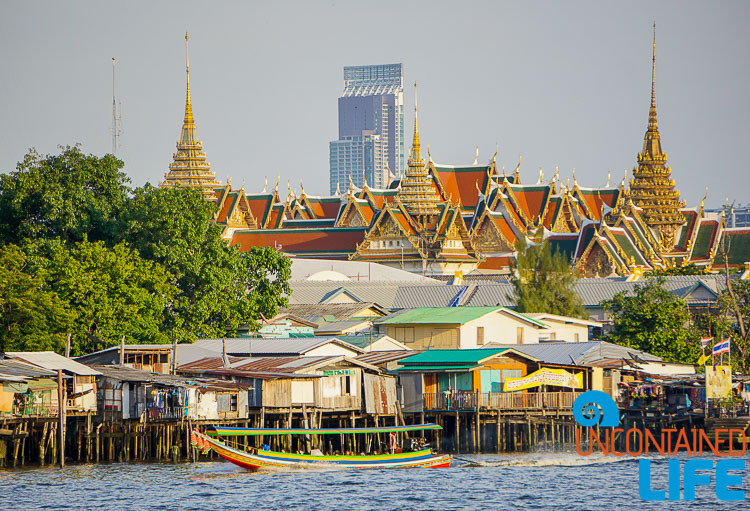 What it is: The former home of the King and seat of government (including Thailand's war, state and treasury departments), the Grand Palace consists of three main sections: the Outer Court which includes the Temple of the Emerald Buddha, the Middle Court which contains residential and state buildings (only two of the throne halls are open to the public, and only on weekdays), and the Inner Court which is closed to the public. The route through the Palace is fairly fixed–don't expect that you'll have much of a chance to wander or dally on Palace grounds.
Where it is: Na Phra Lan Rd (off of Pier 9)
What it costs: 500 baht/ person
When it's open: Every day from 8:30am-3:30pm unless it is being used for a state function**
Dress code: Strict. See-through shirts, sleeveless shirts, rolled-up shirts, quarter length pants, sweatpants, fisherman pants, shorts, skirts shorter than ankle-length, tight-fitting pants, tights and open-toed shoes are not allowed. Failure to comply with the dress code will result in your being turned away from the palace. Visitors who are deemed to be inappropriately attired do have the option to rent temple clothing (you get your deposit back when you return the clothes).
**A note for both Wat Pho and the Palace: if anyone approaches you and tells you that the site is closed or that you cannot enter the way that you are dressed, ignore them. It's a common scam used to get foreign visitors into a tuk-tuk and off to overpriced tourist shops. Appropriate clothing is available for rent at both locations and if the Palace is indeed closed for a royal ceremony, the information will be posted at the ticket office.
Noon: Shopping and Cinema
Time to relax in some air conditioning! Make your way back to the pier, hop on another Orange-flag boat and head back to the Skytrain to visit Bangkok's quirkiest mall. While foreign tourists tend to favor Central World and Paragon with their familiar brands and upscale restaurants, locals (and those in the know) get their retail therapy and air-conditioned eats at Terminal 21 (Skytrain stop: Asok).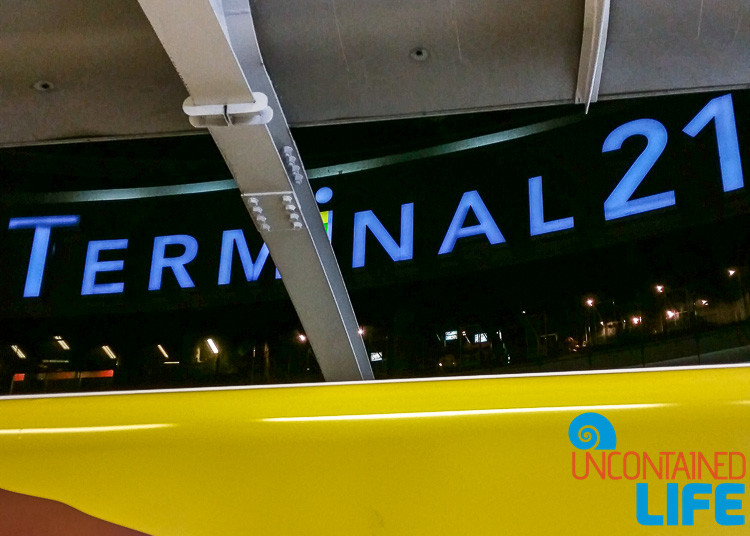 A trip to Terminal 21 is worthwhile not only because of its fun design (each floor of the mall–even its bathrooms!–is devoted to a different global destination and decorated accordingly), but because many of its shops (particularly on floors 1 and 3) feature local, independent brands. In fact, many of the proprietors of these small shops have come to this mall directly from the city's famous Chatuchak Market.
Terminal 21's other claim to fame: the 5th floor food court** which dishes out a variety of street food-inspired eats to a mainly local crowd at value prices (you can, for example, get a good-sized portion of delicious chicken Pad Thai for around 35 baht–expect to spend at least 20 baht more for the same item at any other mall food court or non-street stall restaurant in Bangkok).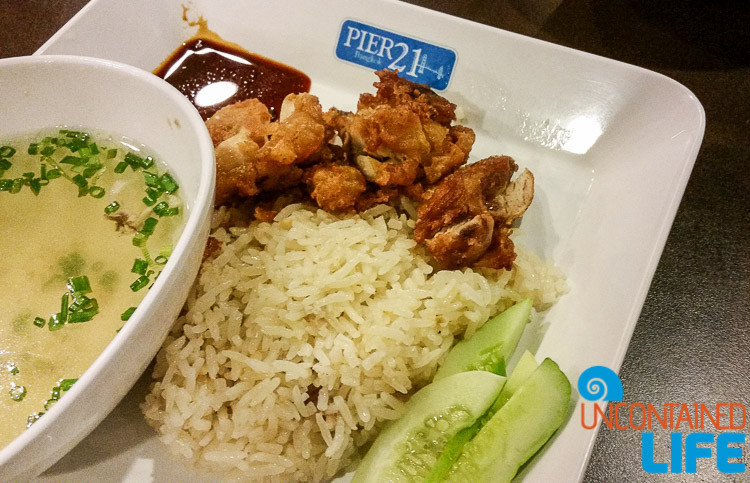 **If you're new to the food court scene in Thailand, start by getting yourself a value card: the cashier will load it with whatever amount of cash you desire (unused funds will be reimbursed when you return the card) minus the deposit charge (amount of deposit varies). You'll then "pay" for any foods you want from individual vendors in the food court with your card.
If you need some time to digest after your meal, head up to the 6th floor of the mall and catch a film. Terminal 21's eight-screen cineplex doesn't offer the kinds of VIP options you'll find at the Siam Paragon (where, should you so desire to splurge, you can get a pillow, blanket and massage with your movie), but the seats are clean and comfortable, the multiple flavors of popcorn are tasty, and the pricing is excellent (approximately $6 USD/ adult). Just don't forget to rise for the King's anthem at the film's beginning!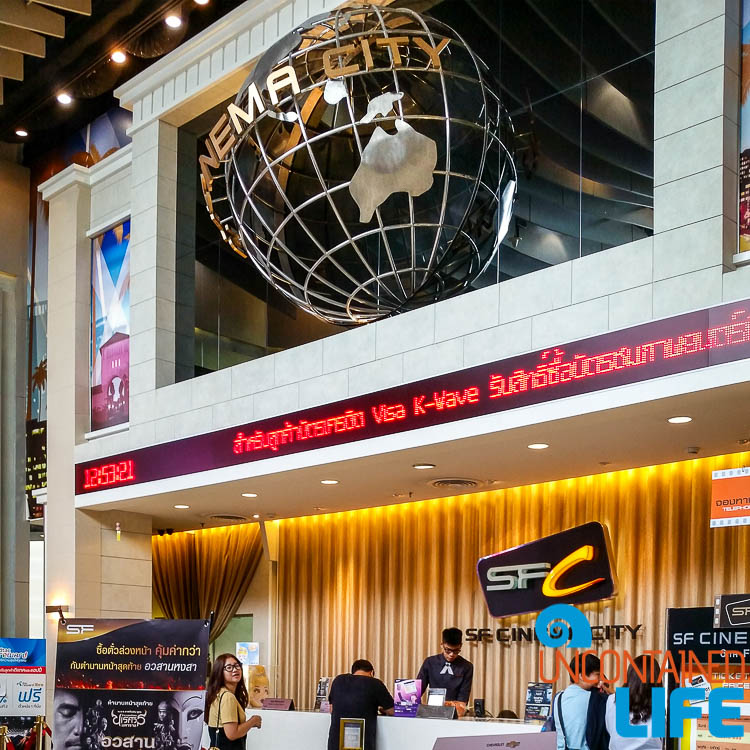 Afternoon: Massage and Mystery
If a movie doesn't float your boat (or if you are simply determined to do it all), exit Terminal 21 and head around the corner to one of our favorite local massage spots: Friends Massage on Sukhumvit Soi 19. Friends Massage not only offers a great (and inexpensive) foot and traditional full-body Thai massage**, they're also supporters of FSCC: the Foundation for Slum Child Care.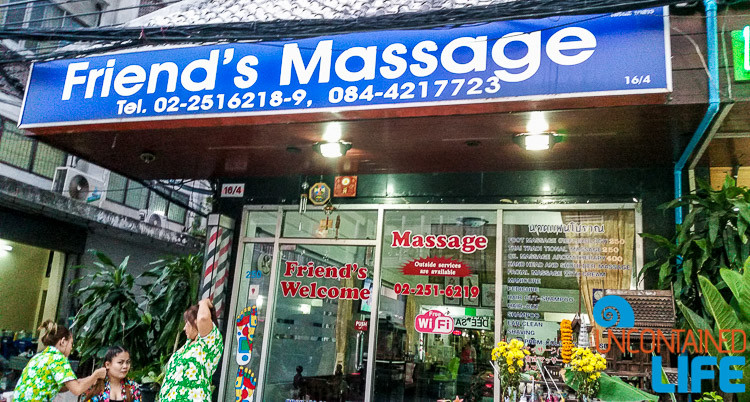 **Tips for a traditional full-body Thai massage:
Unlike in the U.S., you will not be naked or in your skivvies for a traditional Thai massage. After removing your shoes and cleaning your feet, your masseuse should offer you a set of massage clothes: wrap pants and a shirt. Change out of your street clothes and into these items and you're ready to go.
Thai massage consists of a lot of pressing, stretching and muscle-moving (it feels awesome, but kind of strange the first time: the sensation is kind of like yoga meets a chiropractic adjustment). Depending on your size and level of tension, don't be surprised if your masseuse walks on your back!
After your massage, hop back on the Skytrain and travel a few stops back down the line to the Jim Thompson House and Museum (located on Soi Kaseman, 5 mins walk from Skytrain stop Ratchadamri). There's good reason why the Jim Thompson house (which is open 9am-6pm daily) is many visitors' all-time favorite Bangkok attractions. The lovely complex of six buildings set in a lush tropical garden next to the Saen Saeb canal artfully blends traditional Thai architecture with Western details.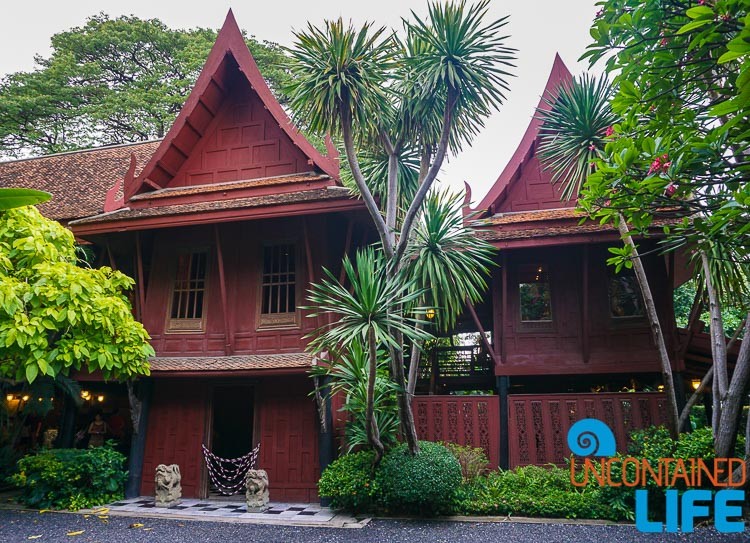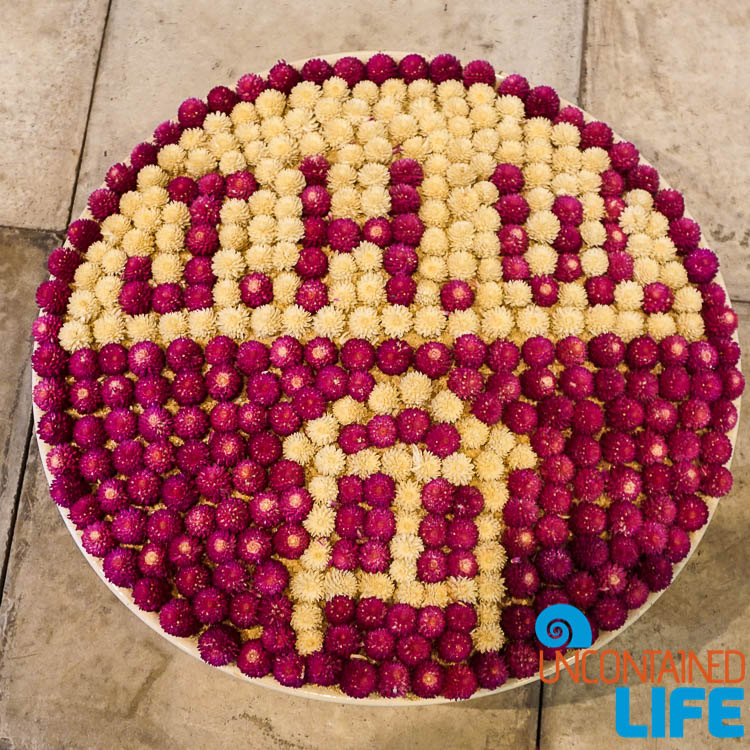 The structures themselves are composed of 19th century teakwood (transported from Ayutthaya and purchased from the local Ban Krua community) and house a fascinating collection of Southeast Asian artwork and antiques.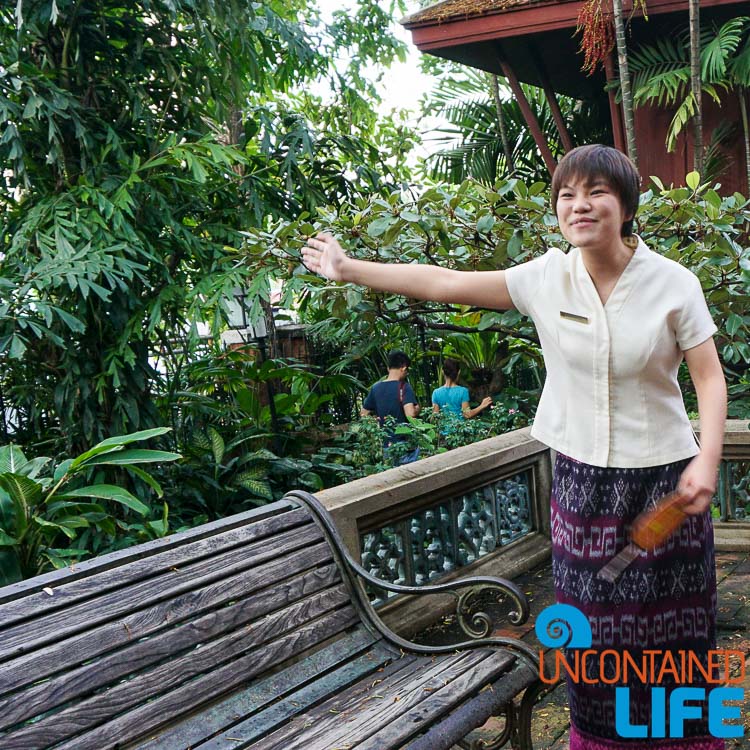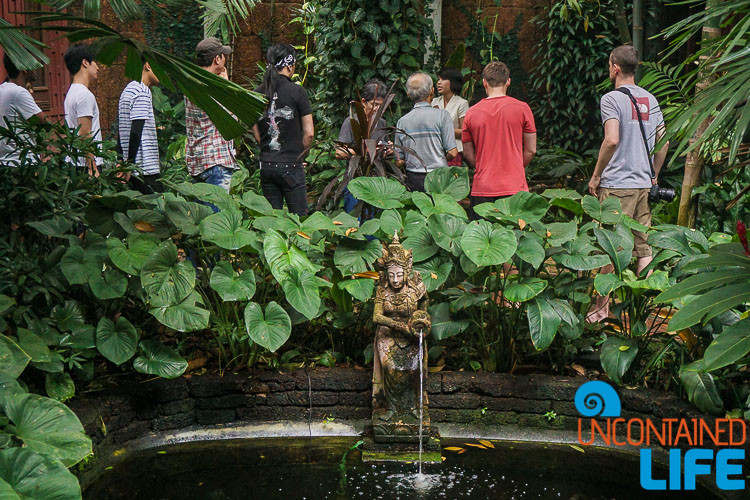 In addition to these attractions, tours of the house (150 baht/person) offer visitors a history of Thai silk-making–an industry which Thompson is credited with having brought back from the brink of extinction in the mid-20th century.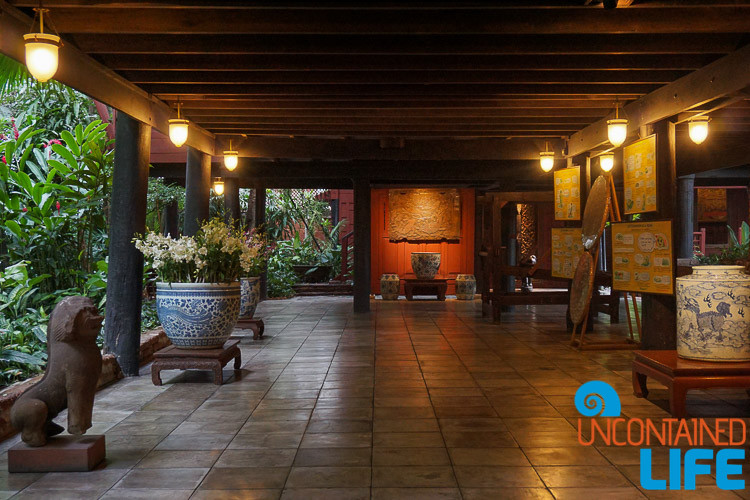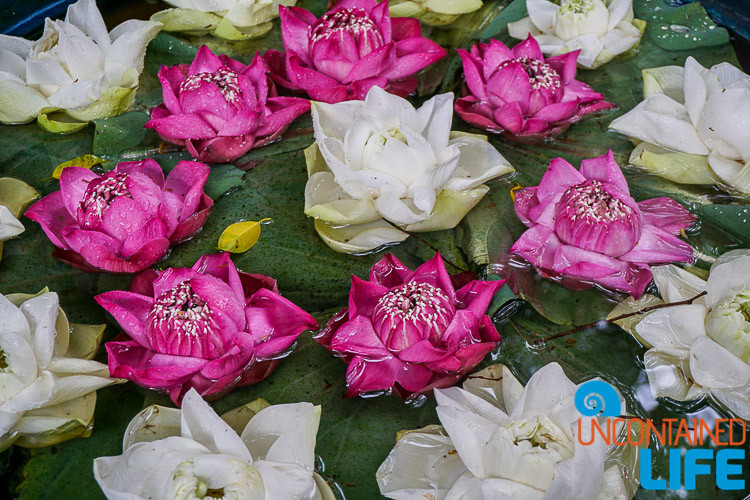 But perhaps the most fascinating aspect of Thompson's life and legend is the mystery surrounding his demise. Thompson vanished at the height of his fame in 1967 while on holiday in Malaysia. Although extensive searches were conducted, his body was never recovered and no hard evidence about his disappearance has ever been found (although conspiracy theories and sketchy "after death sightings" abound). Adding further fuel to the fire? Mere months after Thompson's disappearance, his sister was murdered (investigators found no link between the two instances, but still, pretty creepy!)
Evening: Street Food and a Show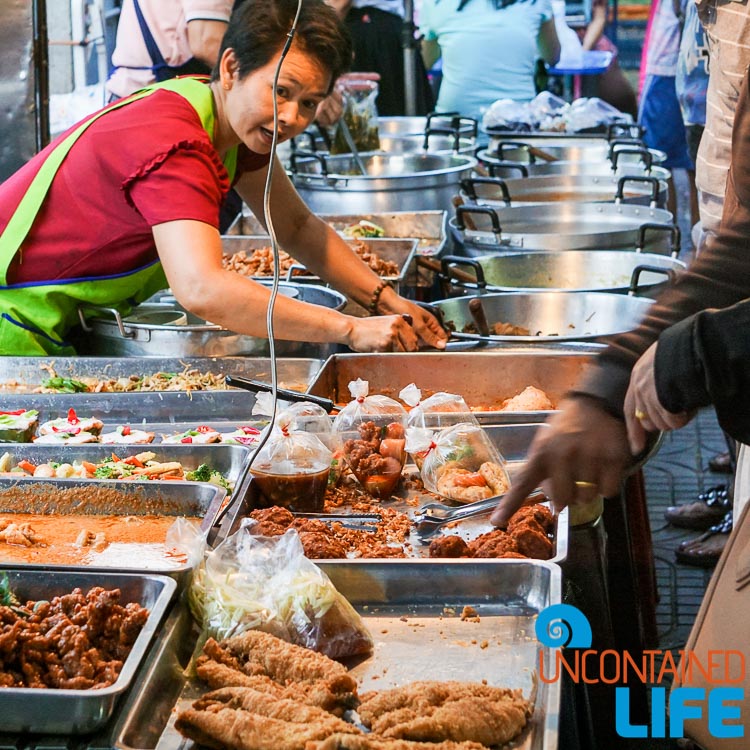 In the words of Snoopy…it's supper time! Grab a cab** or head back to the Central Pier and catch a boat to Pier 5 to explore Tha Din Daeng Road.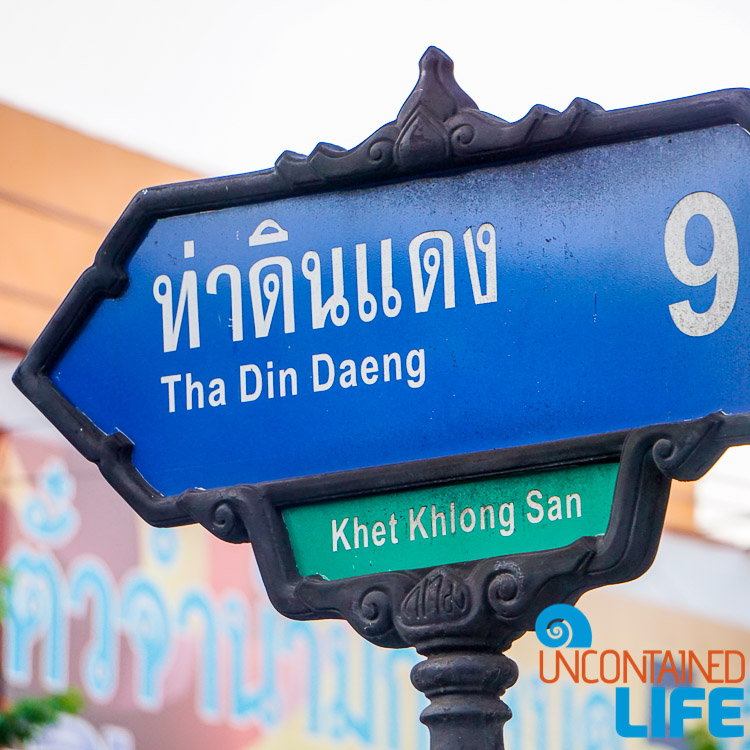 You won't find this street-food heaven in any guidebook, but its known to locals as one of the all-time best places in the city to score cheap, fresh and delicious Thai cuisine. You'll find the street hopping with folks eating and shopping for take-home every evening of the week, but if you happen to visit on a Monday or Thursday evening, you'll also get to shop the special food market which springs up in an empty lot near the pier (across from the orange tent night market) from roughly 4-9pm.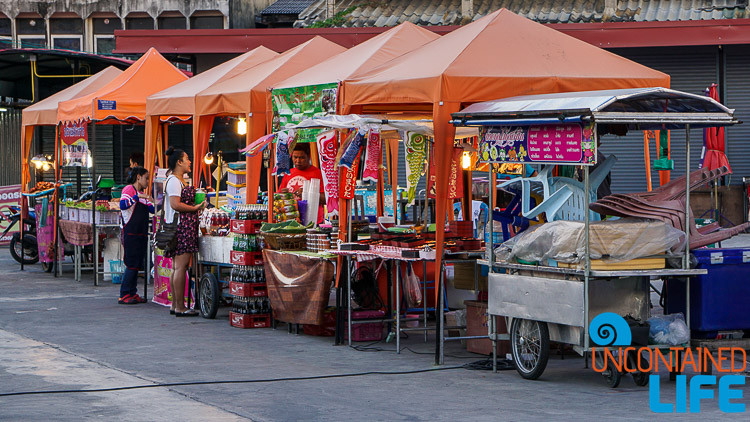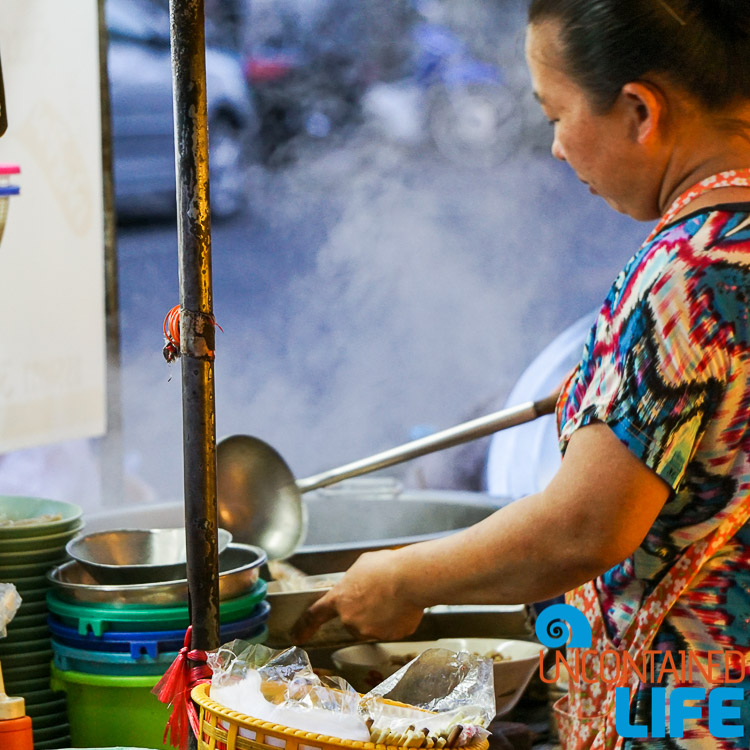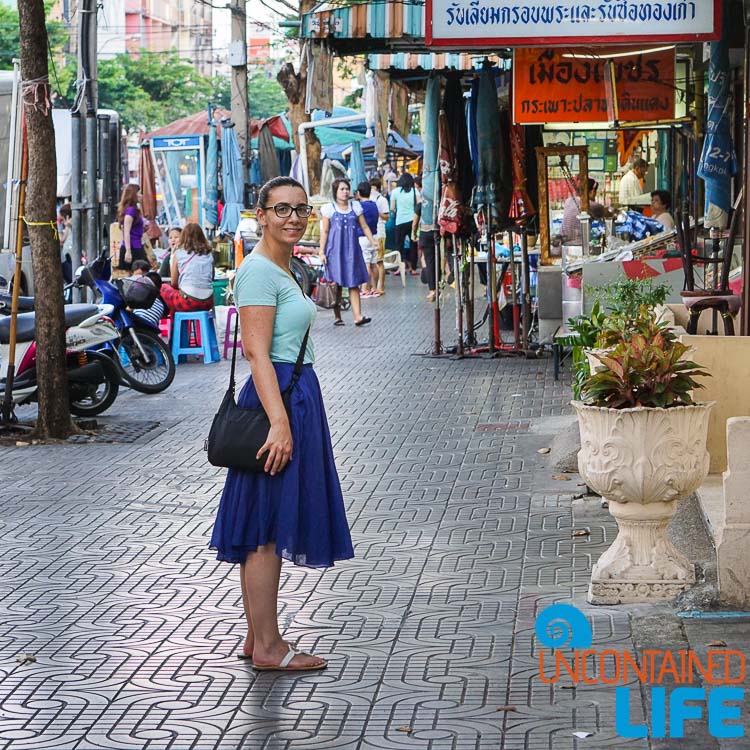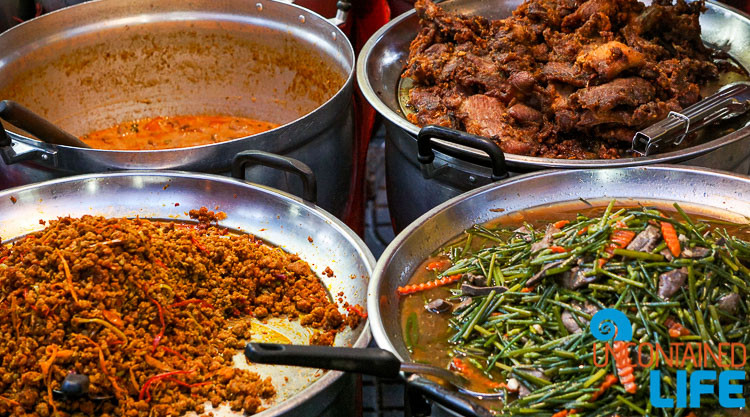 Popular dishes found on Tha Din Daeng include braised goose soup, pork satay, pork noodles, and, of course, a plethora of traditional Thai desserts and baked goods. Prices at this market are among the lowest found anywhere in Bangkok, but there's a corresponding lack of English (both spoken and comprehended). The market isn't looking to lure tourists, so don't expect a super-smiley "Hello! Come buy my stuff!" response from vendors as you walk down the street. Make use of your translation apps and be prepared for lots of mime action and you'll have a delicious, authentic eating experience.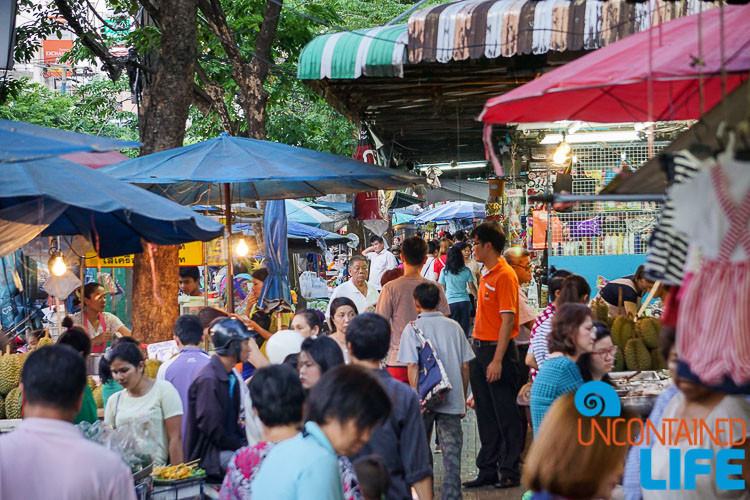 **Grabbing a cab in Bangkok is its own fun adventure. Some basic tips:
Before getting into the backseat, make sure your driver knows ( for real) where you want to go–when in doubt, show him the name of the place in Thai characters and/or the location on a maps app (google maps always works well for us).
Make sure the meter is running (just say "meter" if it's not). If your driver refuses to turn the meter on, immediately exit the cab and find another one.
Don't be surprised if, after telling your driver your destination, he says "no" and drives away. While drivers aren't technically supposed to refuse a fare, in actual practice they do it all the time, especially if the distance is far, it's raining, or traffic is bad.
If you still have energy left after dinner, Bangkok has plenty to offer in terms of nightlife. From cocktails on the roof of Sky Bar to night markets** you're sure to find something that entertains.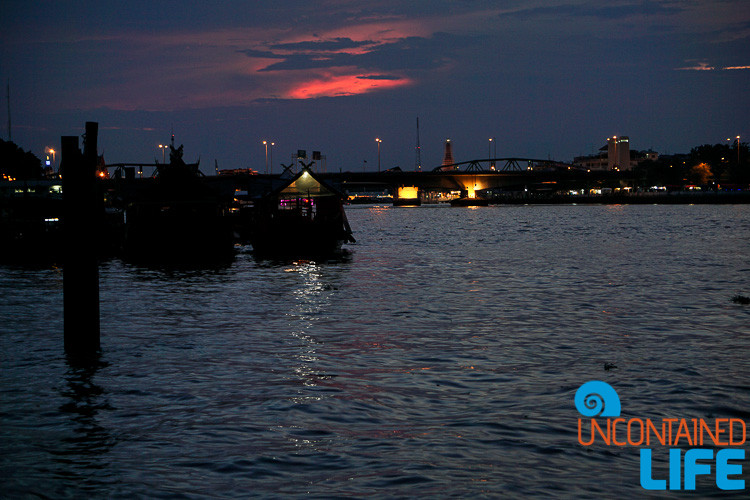 **If you were planning to hit the Chatuchak Market (Skytrain stop: Mo Chit) consider going on Friday night rather than during the weekend day–not all stalls are open, but you'll find fewer crowds and avoid the heat!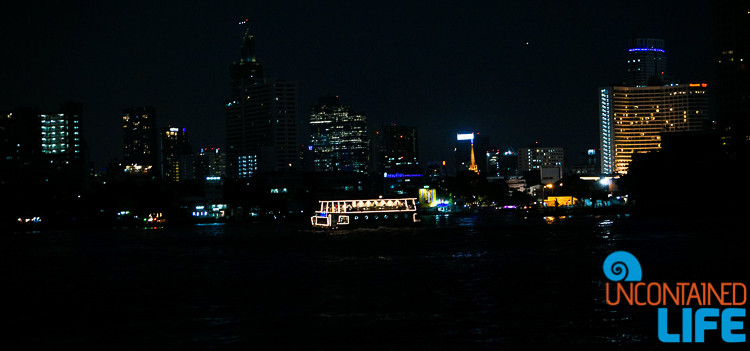 That being said, we'd recommend that you avoid spending your time and money in the (in)famous Patpong red light district. While some may look at it's strip-tease and ping-pong shows as harmless fun, having had the chance to talk to some former "bar girls" on our last trip to Bangkok, it's difficult for us to see it as anything other than exploitation. (We'll be writing an article that talks about this issue, specifically, very soon.)
We hope you have a wonderful time in Bangkok! If you have any old favorites or discoveries from your own trip you'd like to share, we'd love to hear about them in the comments section.
If you're looking for a friendly and affordable place to stay off of Koh San Road, check out Decor Do Hostel!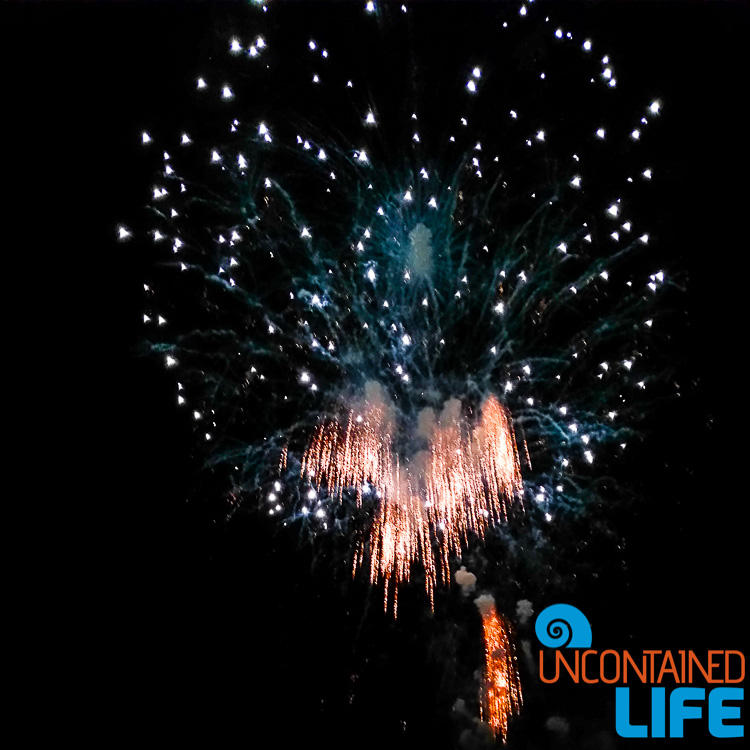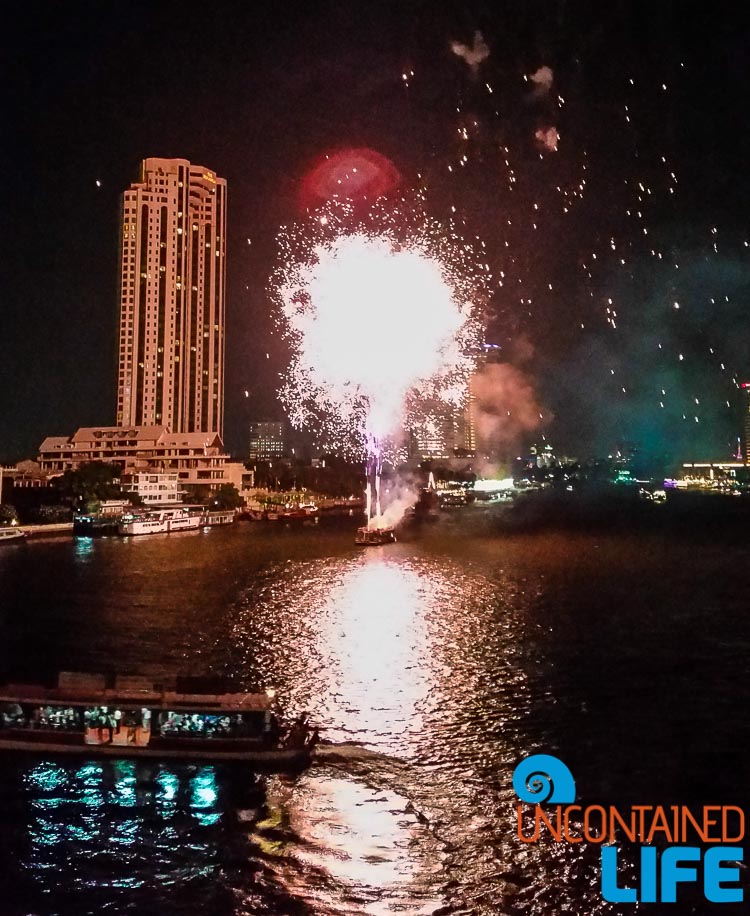 If you'll be spending more then 24 hours in Bangkok, consider checking out some of these other posts for more ideas about things to see and do!



---
Support Uncontained Life!
If you've found this site helpful, the best way to say thanks is by clicking on one of our Amazon links. Whenever you make a purchase within 24 hours after clicking one of these links (even if it's of a product we don't have listed), we make a small commission (at NO extra cost to you) which helps us keep this site running. Thanks for your support!