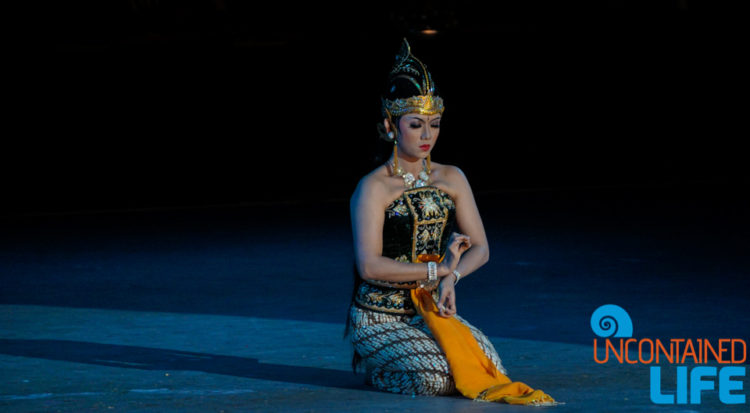 In addition to our love of classical music (as discussed in our article about Salzburg), Justin and I also, from time to time, like to enjoy an intense night…at the ballet.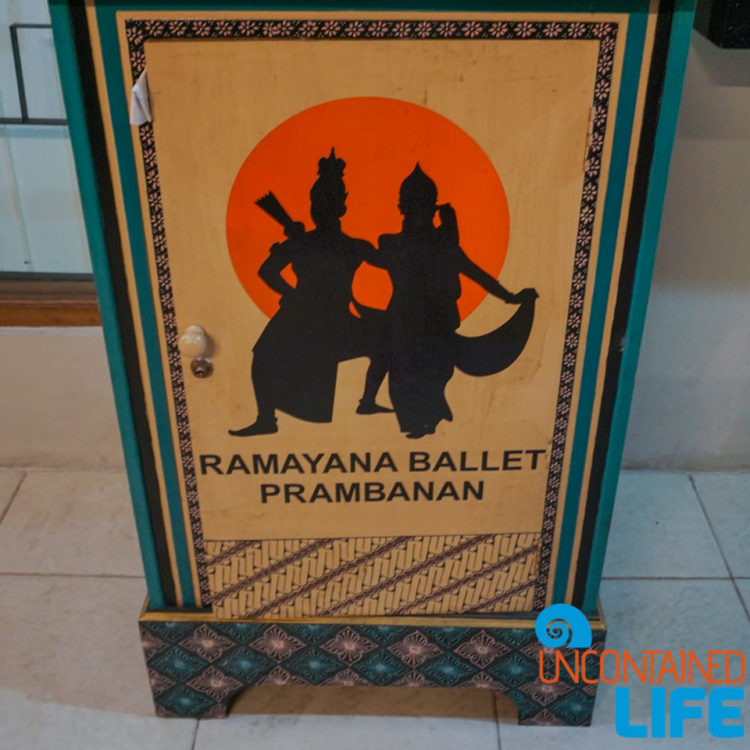 And while it wasn't exactly the same kind of experience as back in the US, we had a fantastic time going to see the Ramayana Ballet in Yogyakarta: The life and death situations. Dramatic lighting and smoke. The intricate maneuvers. And that was just the scooter ride getting to the ballet.
Now, I'll confess, when I was brainstorming this article about why you should go see the Ramayana Ballet, I did consider writing "BECAUSE DANCING IS COOL!!!" five times over and over…but I'm sure you already know that. So. What less obvious reasons can Justin and I offer for why you should go see the Ramayana Ballet at the Prambanan temple complex in Yogyakarta, Indonesia? Guess you're just going to have to keep reading…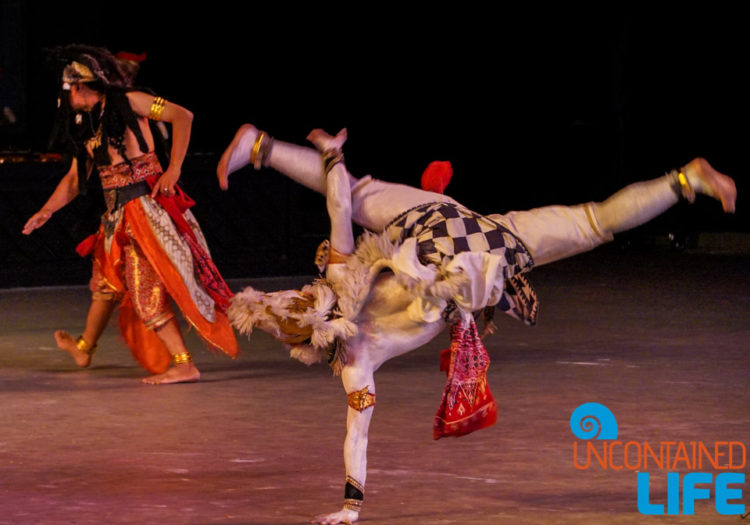 5 Reasons to Scoot Along to See the Ramayana Ballet
1. The Temple Backdrop
There are a few places in town to see Javanese dance, but none of them have the benefit of this backdrop: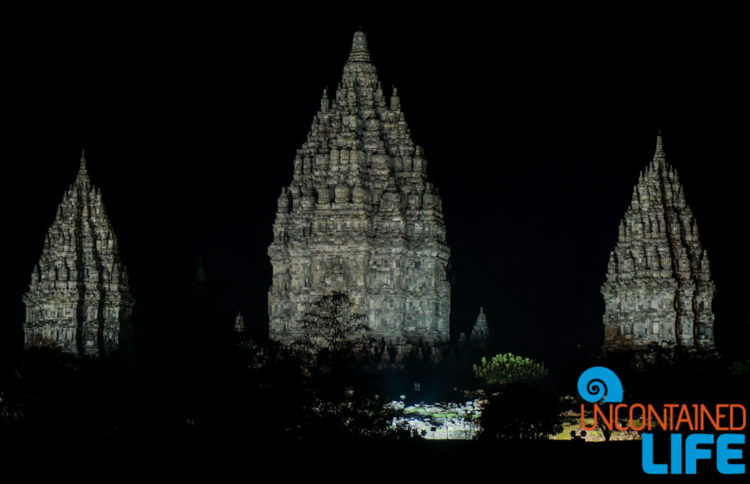 The Prambanan temple is a UNESCO World Heritage Site which dates back to the 10th century. The three main temples in the complex are dedicated to the Hindu gods, Shiva, Vishnu, and Brahma, and are decorated with reliefs illustrating the epic of the Ramayana (yes! the same story as the ballet).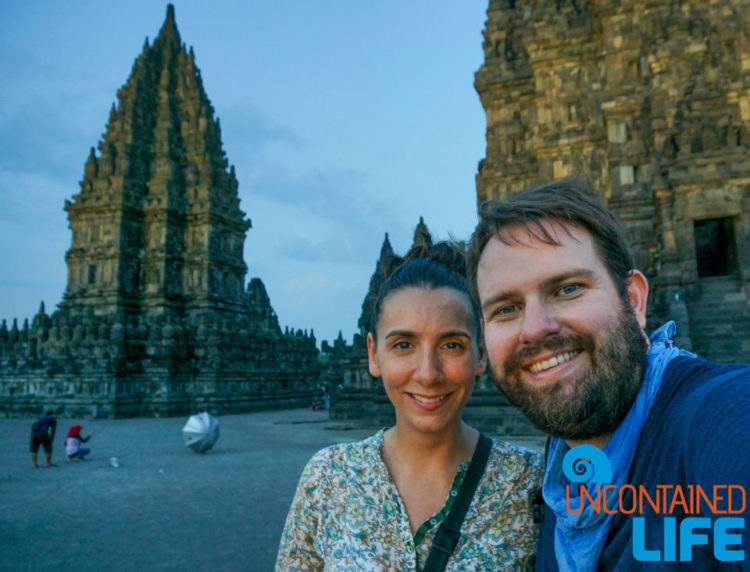 We have more photos of the temples by daylight…which we'll show you at another time.
2. Shiny Costumes, Shinier Fire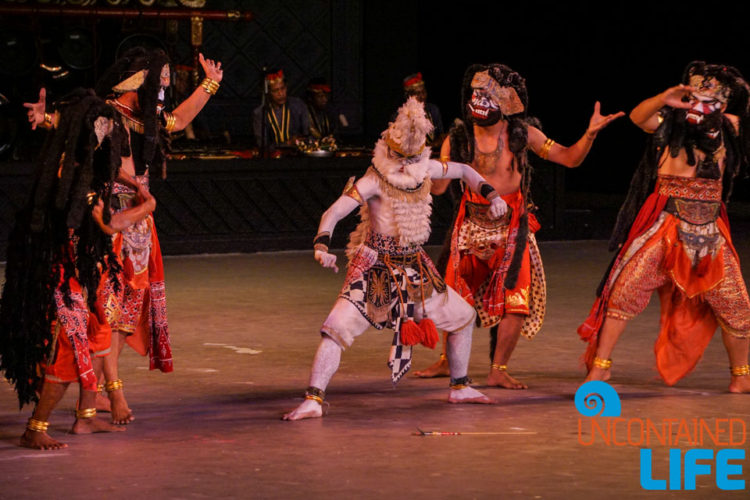 Show of hands of people (or raccoons) who do not like shiny things. Ok, now that all the liars have revealed themselves, let's move on. But seriously, folks, half the fun of going to see the Ramayana Ballet lies in the colorful costumes, dramatic masks, and traditional garb.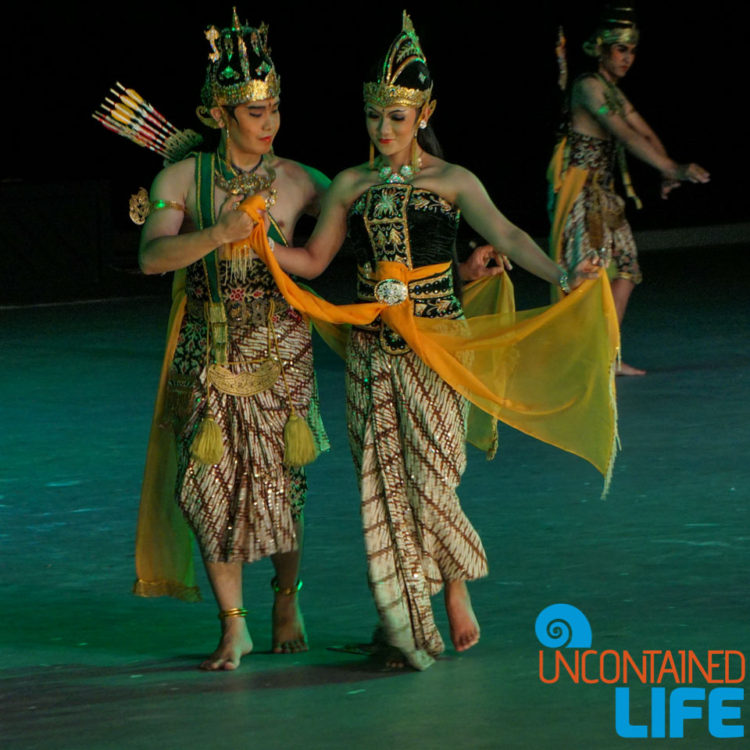 It's like a damned Skittles commercial.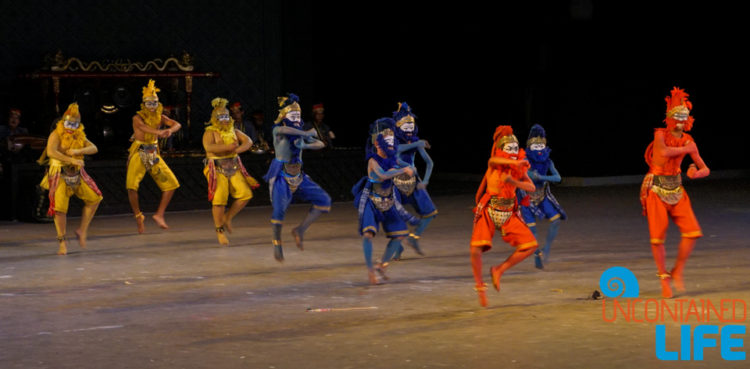 With more animal fur.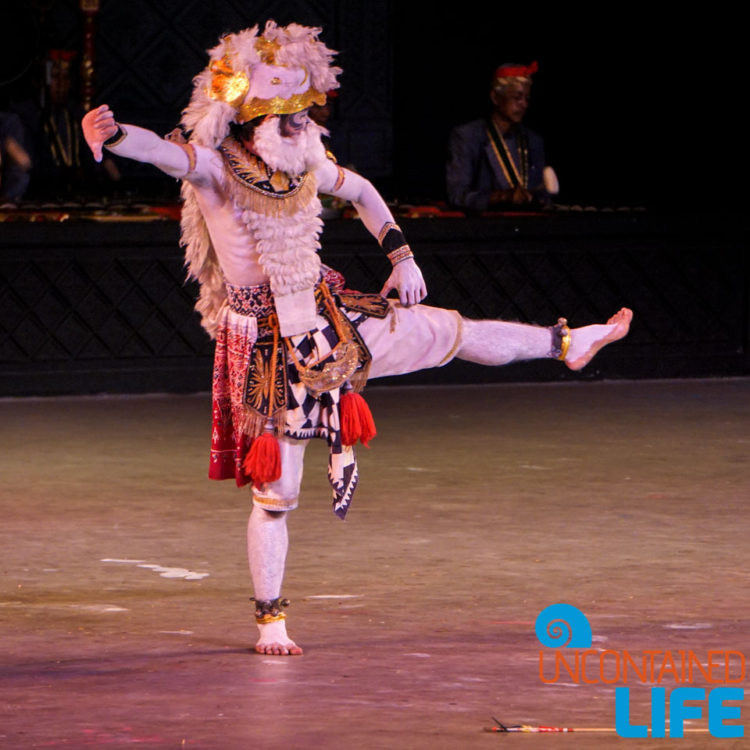 For those who remain unimpressed by glittery and/or hairy costumes however, there is also the moment in the ballet when they burn half the set down.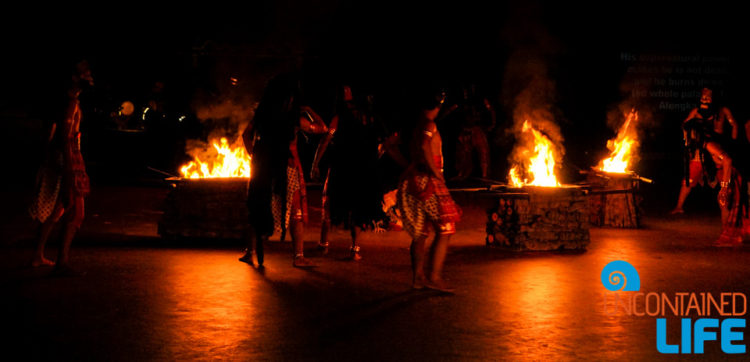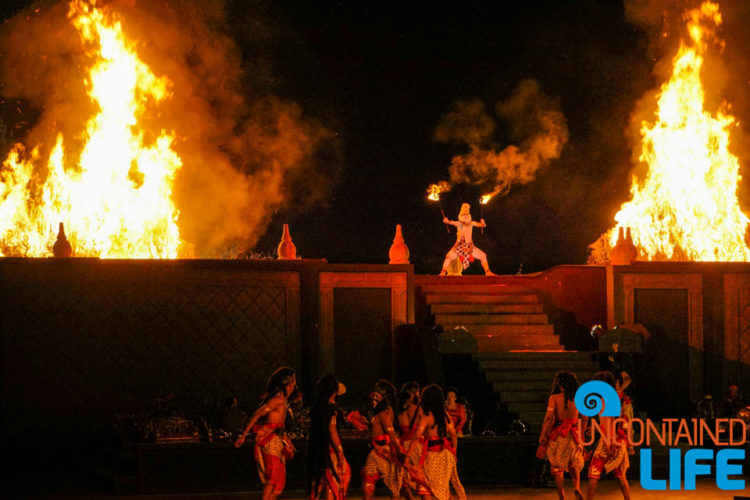 And yes, it's even cooler (hotter?) in person than it looks in the photos.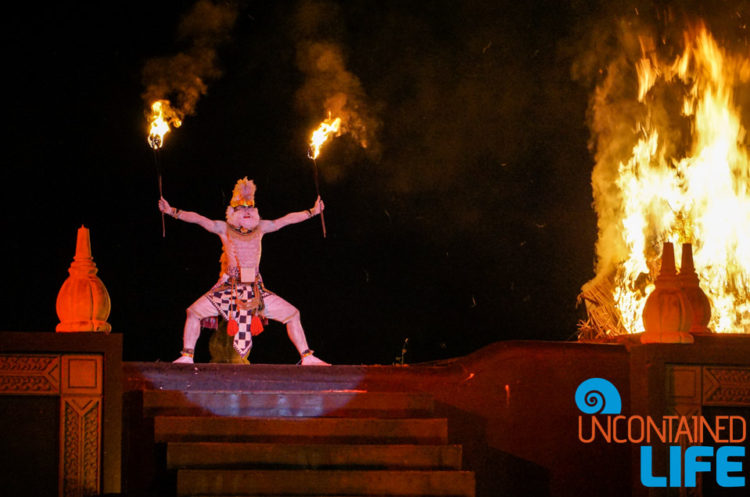 3. Totally Unique Moves (to Sweet Gamelan Grooves)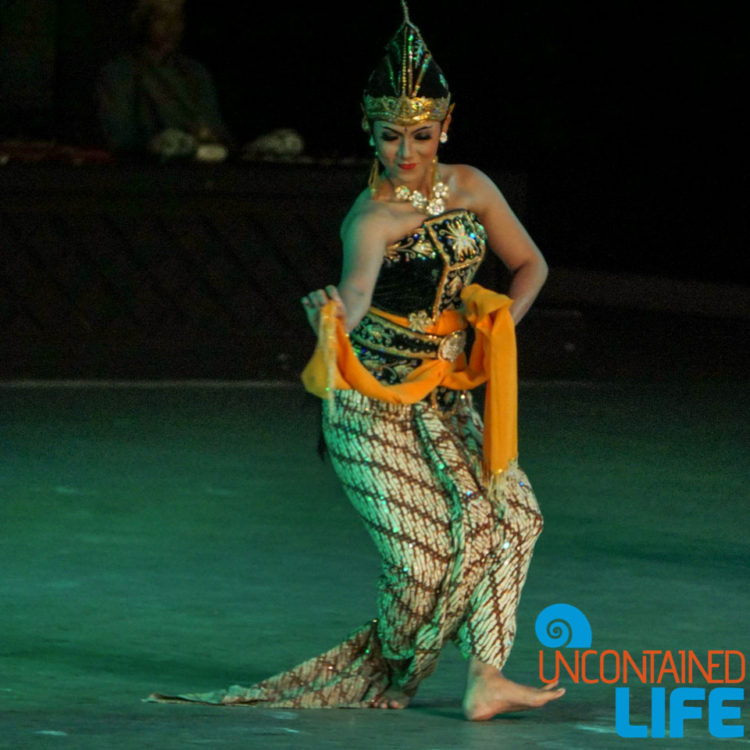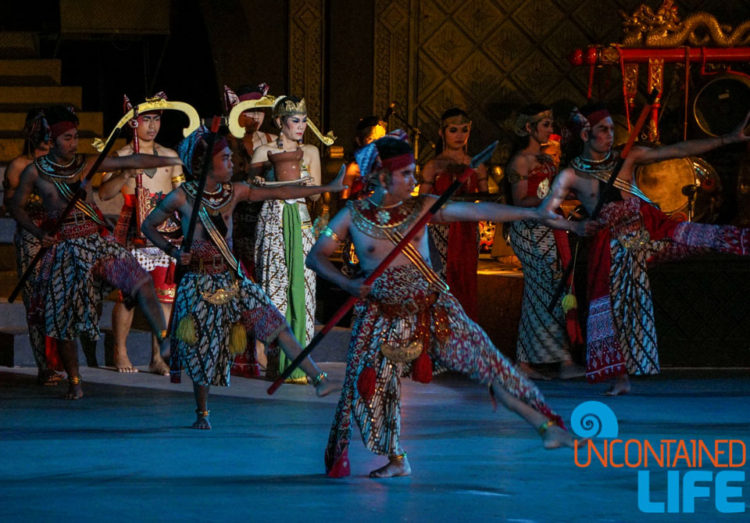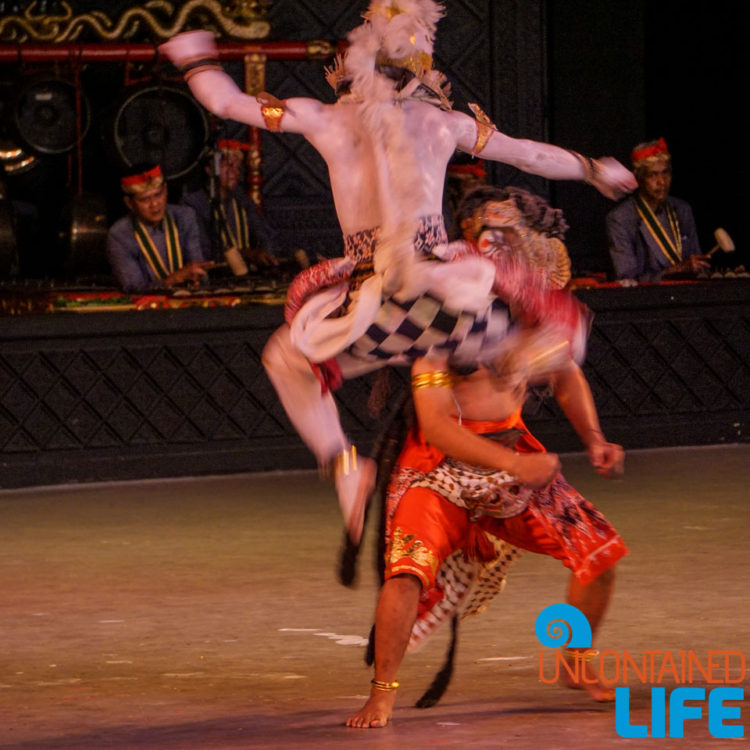 Justin and I first heard about the Ramayana ballet right around the same time that we mastered the art of squeezing a scooter in the two foot space between a bus and a curb. We had already been planning to visit Prambanan, and the ballet seemed like a cool add-on to that trip…but we wanted a bit more info. about why Javanese dance was such a big deal. So, we decided to ask some locals who gave us the scoop: basically, Javanese dance was a huge part of court life back when Java was an independent nation.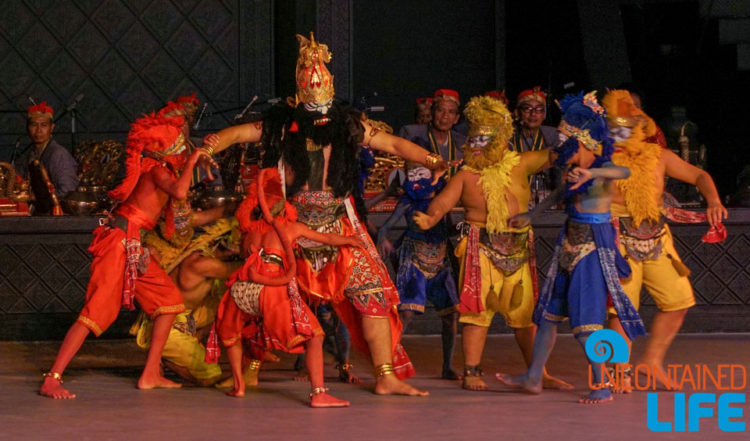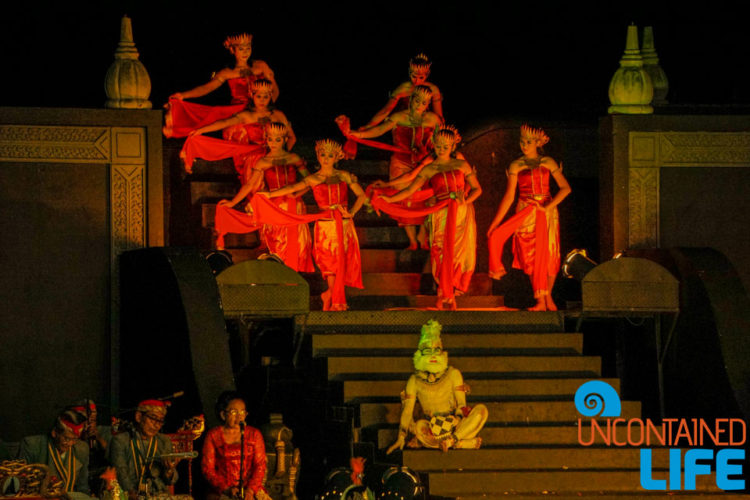 But then, following the end of Dutch colonial rule in the 1940s, the new unified Indonesian government decided Javanese dance was too divisive: they saw it as a celebration of Java, not of Indonesian culture as a whole. So, they outlawed the dance.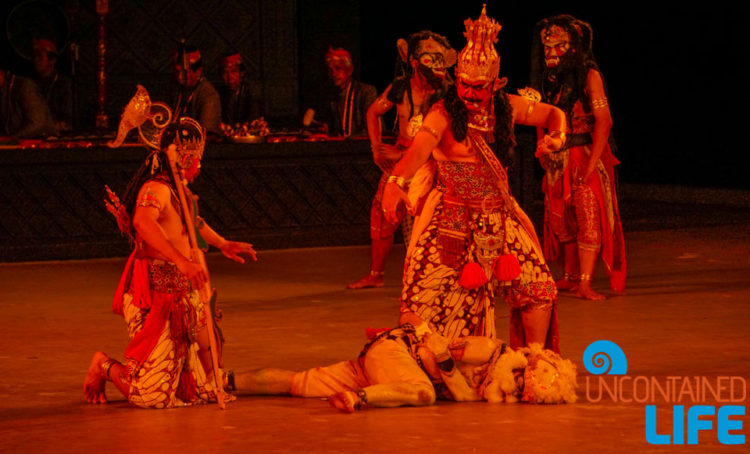 But, as history shows us again and again, (and as Footloose will attest) art doesn't bow as gracefully to politics as some might desire; people continued to practice and teach Javanese dance in secret and, at some point, the government realized the law was dumb, and the dance began to be performed publicly again.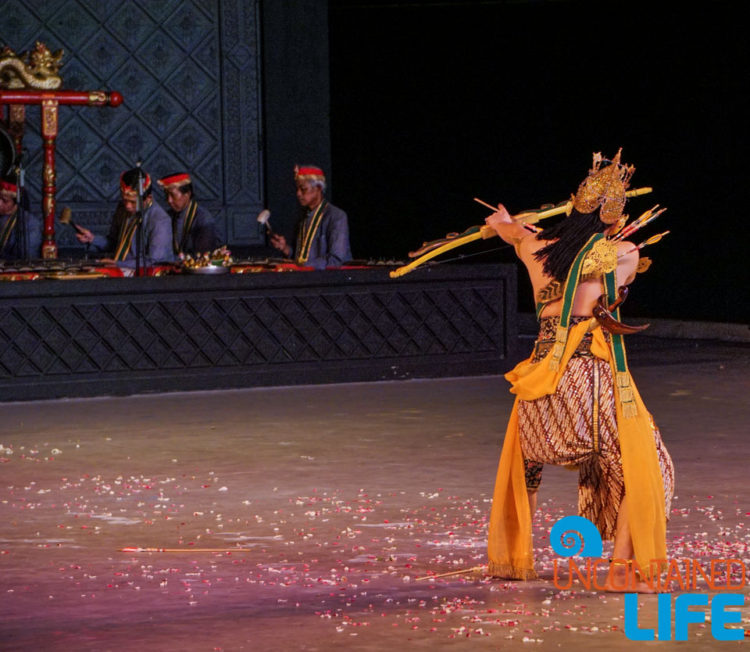 Since the ballet performances at Prambanan began, they've attracted the most talented professional dancers, and students–and we understood why when we saw the dance moves themselves: so precise, so controlled. (Apparently, each pattern and movement has symbolic significance.) It's no wonder people rush the stage after the end of the performance for selfies with the dancers!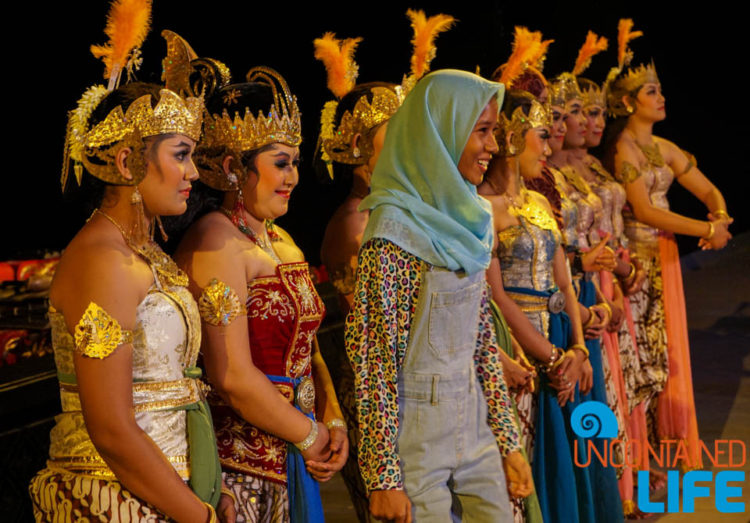 4. The Aforementioned Gamelan Orchestra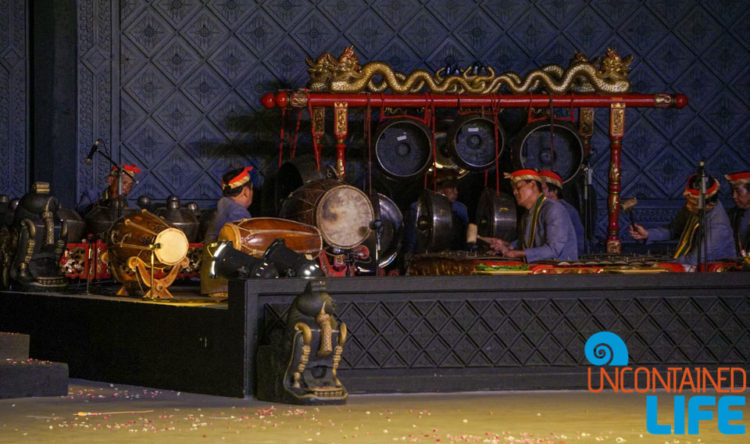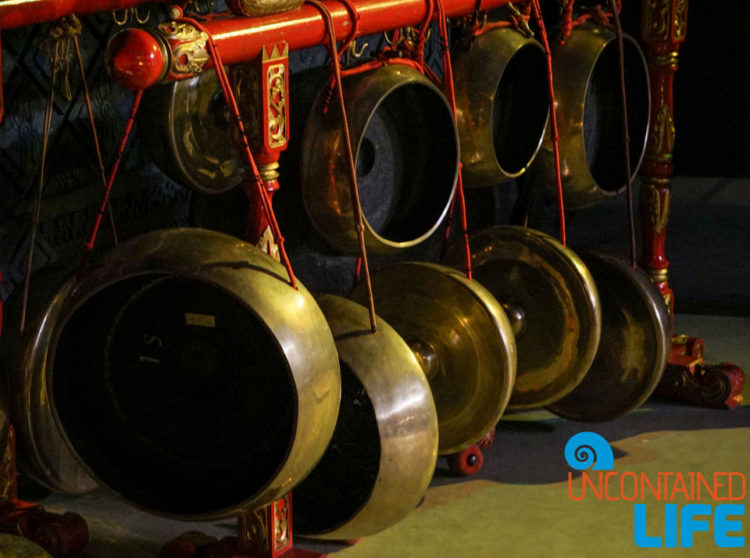 And music accompanying the ballet is, of course, another unique element. A full gamelan orchestra typically consists of some 60 to 80 musical instruments, including a large percussion section–complete with bronze kettle drums, xylophones, and gongs–as well as spike fiddles and bamboo flutes.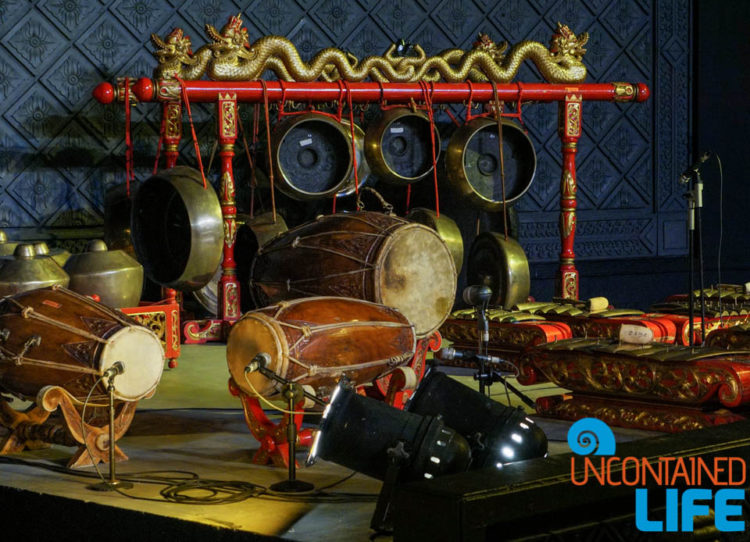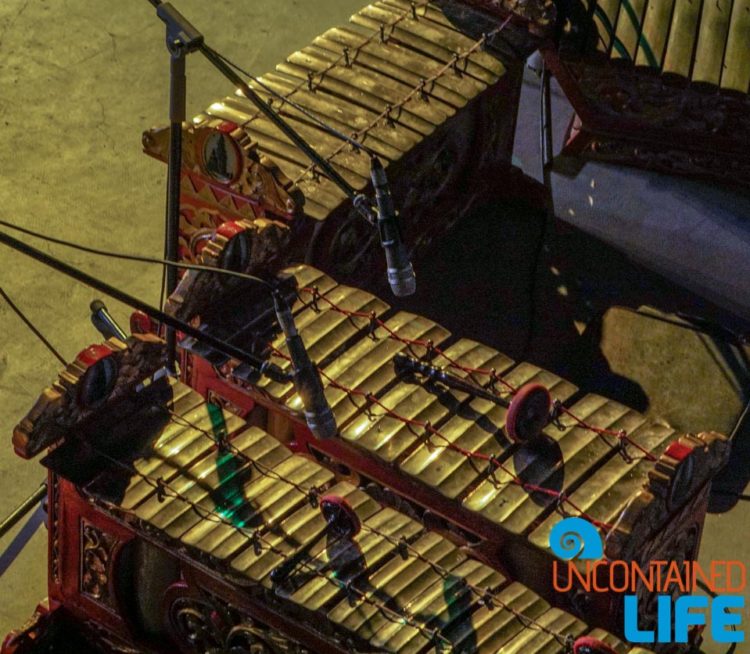 Like many other eastern cultures, Javanese Gamelan music is based on a pentatonic scale and your (western) ears will, most likely, not be used to the sound. But, give it a few minutes and you will soon come to appreciate the music, the rhythms, and the sounds of the Gamelan orchestra.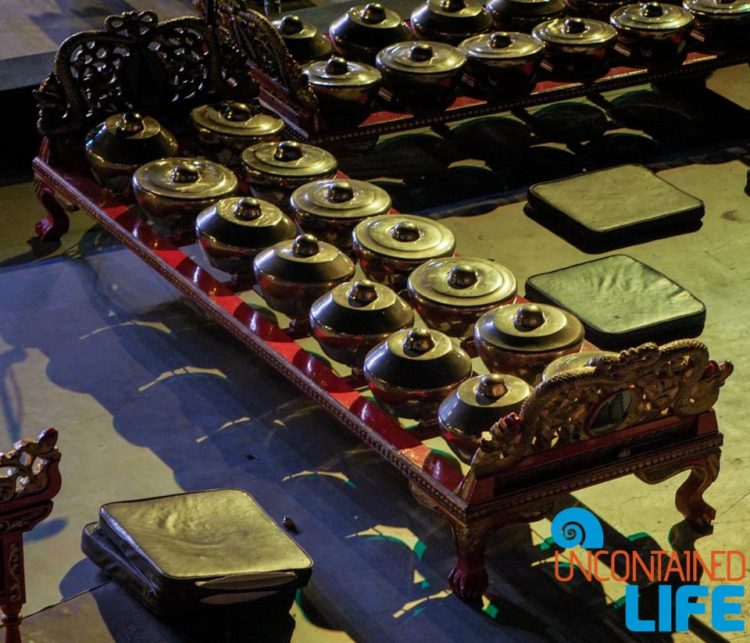 5. The Somewhat Perplexing But Entertaining Storyline
Ok, so no cultural disrespect intended BUT…the Ramayana storyline is a wee bit nutty (which puts it in good company with most legends/epics). Even with the hand-out they give you when you buy your ballet tickets, it can be a little difficult trying to follow the various characters and why/ how they're doing the things they're doing. Which is why we've created these handy dandy infographics…with cute animals. Let's begin by introducing the cast of characters, paired with the animal by which they'll be represented once we start actually telling the story: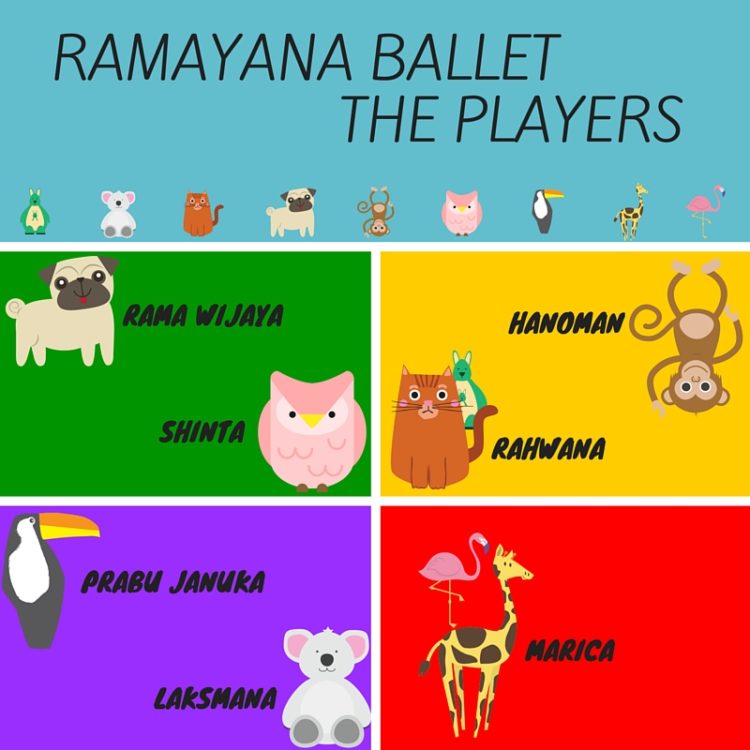 Got that? Kind of? Ok, now, the story: Part 1: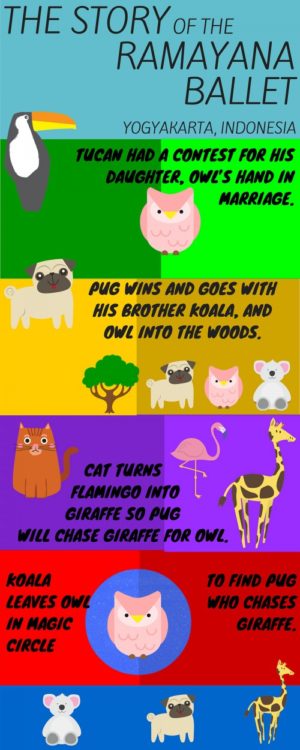 Intermission. You following so far? Even if you're confused, at least the animals are cute.
Part 2: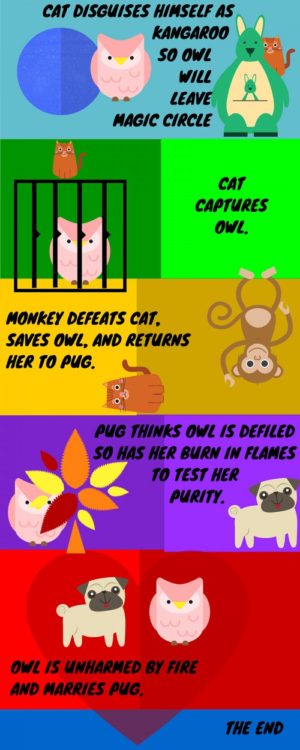 So many things could be said about that last part of the story in particular. So. Many. Things.
All photographs were taken with the Sony A6000—a lightweight, mirrorless camera that captures great images even in low-light conditions.  You can find out more about the gear we carry when we travel HERE.
---
Visitor Information for Going to See the Ramayana Ballet
Arriving Early to See the Ramayana Ballet: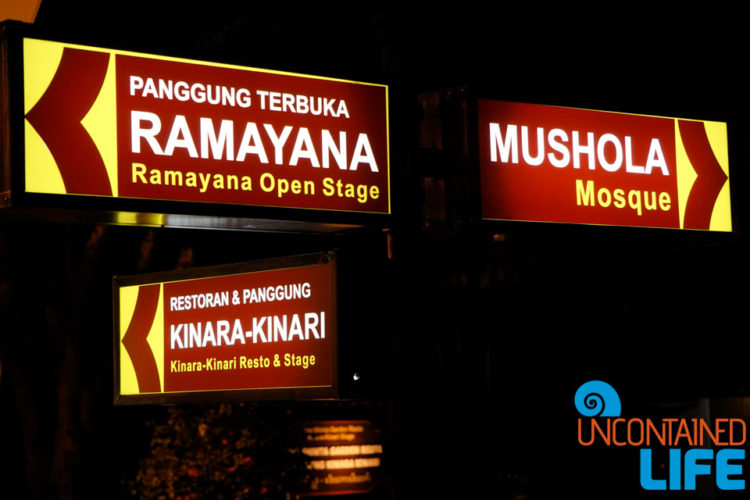 Many people arrive early to the ballet. There is an open-air restaurant and bar next to the ballet box office that looks out to the temple ruins. We recommend taking some time to relax and a meal or drink before finding your seat in the amphitheater.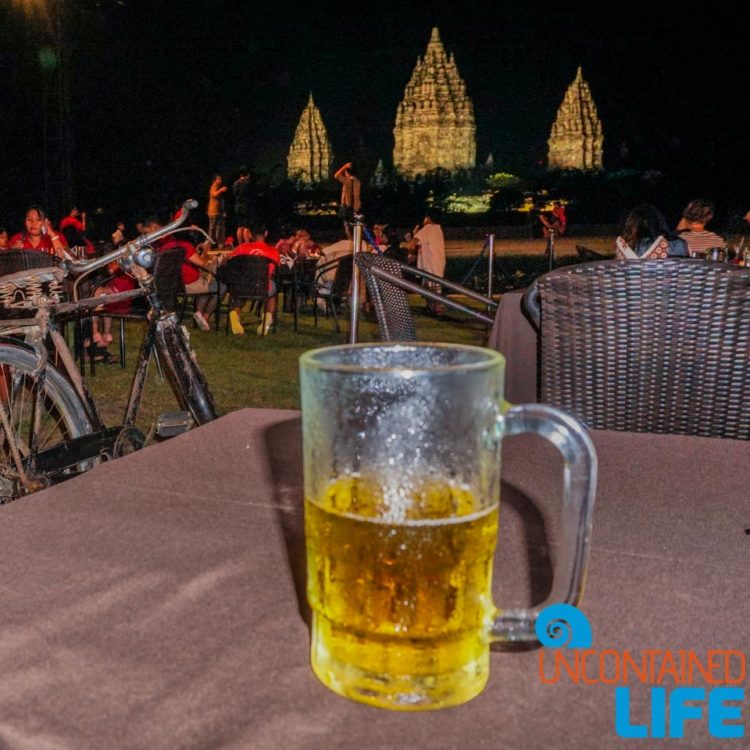 Intermission:
There is an intermission (thank goodness) and the sooner you race to the concession stands or bathrooms, the better. It kind of turns into a free-for-all.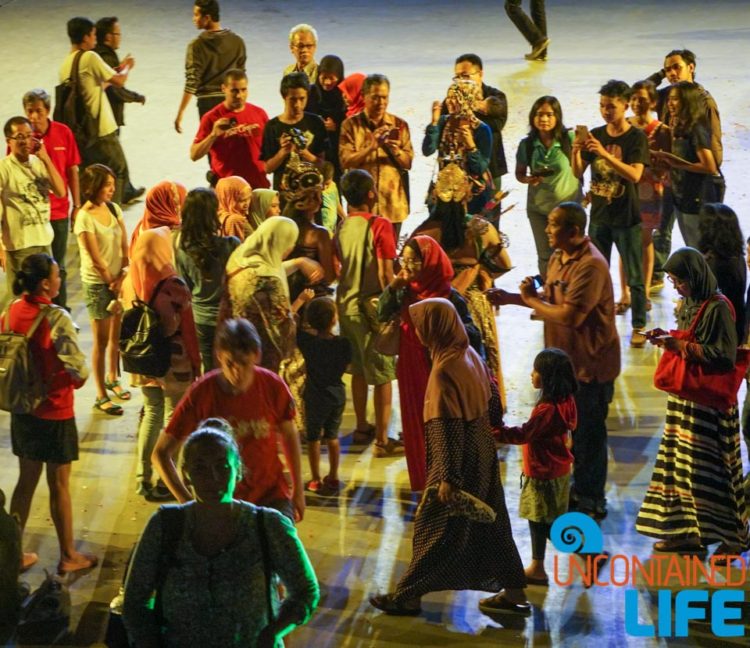 Selfies After the Show: 
Don't forget to join the cast on the stage at the end of the show. It would be difficult to rival the magnitude of the Ramayana Ballet and who wouldn't want to take a chance to get up close and personal with the enormous talent represented on the stage? Justin did!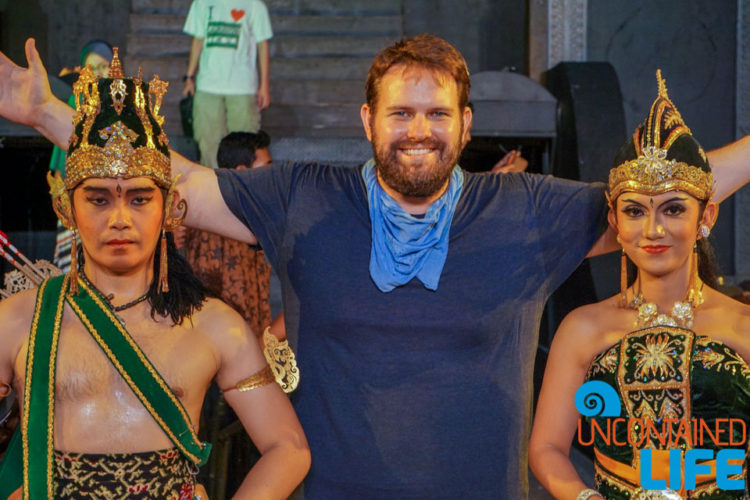 Ticket Prices:
IDR 375,000 (VIP)

IDR 275,000 (Special class)

IDR 200,000 (Class 1)

IDR 125,000 (Class 2)
(Note: There's a small camera fee if you want to take photo or video during the performance.)
Show Dates & Times:
Check upcoming show dates HERE. (Note, there is NO fire at the indoor performances!)
Time: 07.30 p.m – 09.30 p.m
Need a place to stay in Yogya?
–Budget: For those looking for a local homestay experience, you won't do better than Nibenia Homestay, located just outside the city center. Check prices on Agoda to save 50% or more off of your stay! If you're wanting to be right in the thick of things, let OstiC House be your home away from home! Check your travel dates for OstiC House today and see what you could save!
–Mid-range: Perfectly located in the heart of Yogya, Ndalem Gamelan Hotel offers charming atmosphere and earns rave reviews for its helpful staff and delicious breakfasts. Check your travel dates at Agoda and save up to 60%!
–Luxe: The beautiful Phoenix Hotel Yogyakarta, housed in a colonial landmark dating back to the early 1900s, is perfectly located to see all that central Yogya has to offer. Breakfast comes included with most rooms, and you could save up to 50% when you book through Agoda.com!
Are you on Pinterest? Pin this post!